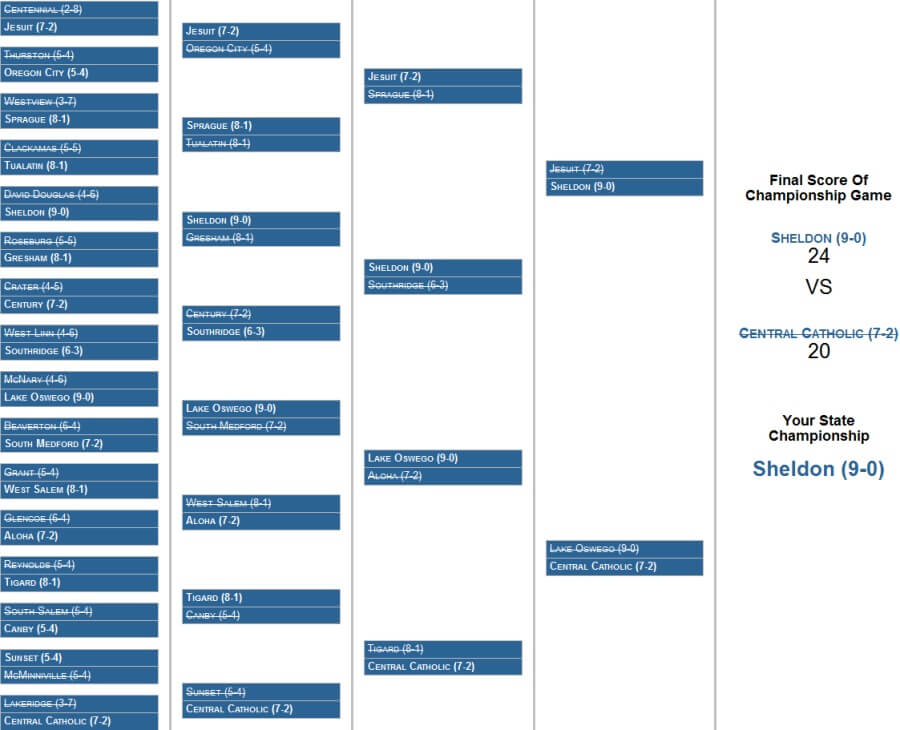 6A Oregon First Round

6 (2-8) Centennial @ Jesuit (7-2) 54 – The return of AJ Glass is a good thing for everybody involved with the Crusader program, as Jesuit is playing there best ball of the year. This one is over by half.
21 (5-4) Thurston @ Oregon City (5-4) 33 – Should be an exciting ball game as Thurston has overachieved all season..That said it will be hard to stop all everything RB Mitch Thompson of OC, as he has torched every defense without a good run stop.
19 (3-7) Westview @ Sprague (8-1) 37 – Sprague is one of my sleepers on a state wide level as I see Devvon Gage and Austin Wilson as one of the best LB duo's anywhere in the NW. Gage is also a very talented RB, and Zack Sweet has had a monster year along with Conference Player of the Year QB Jon Schaub.
14 (5-4) Clackamas @ Tualatin (8-1) 25 – Clackamas has been playing well and been in most ball games behind the running of Junior Daniel Sherrell. Tualatin has one of the better D's in the state and should use that again to help get the W.
12 (3-7) David Douglas @ Sheldon (9-0) 42 – Sheldon is (49-2) over the last 3 1/2 years and have blasted opponents by an average score of 53-8 on the season. DD isn't bad, but the Irish should put this away quickly.
23 (5-5) Roseburg @ Gresham (8-1) 27 – Look for Devauntae Hoffman to be the guy carrying the load as the Indians have had a rough season, and the Gophers have played pretty well. Micah Tolai of Gresham is one of the best players in the state you don't know about.
20 (4-5) Crater @ Century (7-2) 44 – The Jags should come out firing as this will be the best chance they have to make a run in the playoffs probably ever. QB Sam Riddle is coming off a big week being named Conference Offensive Player of the Year.
17 (4-6) West Linn @ Southridge (6-3) 38 – The Lions are much better with a healthy Evan Voeller and a protected Hayden Coppedge, but the Hawks are legit and one of the best teams in the state. Two Metro titles, two seasons. The kids from Murrayhill can play.
6 (4-6) McNary @ Lake Oswego (9-0) 57 – I like this McNary group but this will be over early.. Lake Oswego has won 23 straight including last years state title and they are showing no signs up letting up. QB Ruppe and WR Connor Griffin have been lights out all year.
23 (6-4) Beaverton @ South Medford (7-2) 31 – Beaverton has been playing better and Evan Colorito is a game changer. South usually represents well at home, and Coach Singler will have his guys dialed.
30 (5-4) Grant @ West Salem (8-1) 31 – In maybe the game of the night the Central Valley Champions will attempt to control the game up front while the Generals will do what they can to get Nathan Halverson the ball. Grant has been playing much better.
21 (6-4) Glencoe @ Aloha (7-2) 42 – Glencoe knows what they are going to do, but stopping Tyner is a different story. The Warriors have to use more than TT and Mo McSwain if they want to make a deep playoff run.
18 (5-4) Reynolds @ Tigard (8-1) 64 – Benny Wick is out with a broken arm, so look for super talented junior Manu Rasmussen to step up offensively during the playoffs. This will be over early.
28 (5-4) South Salem @ Canby (5-4) 32 – The Saxons have played well this year, being in almost every ball game behind state leading tackler Jake Default and top RB Jaylynn Bailey. Canby has also turned it up executing in the 2nd half of the season and its tough to go into their house and win.
25 (5-4) Sunset @ McMinnville (5-4) 24 – This game could go either way as you don't know if you are going to get the Sunset team that almost beat Jesuit and Aloha, or the one that lost to Lincoln. Mcminnville isn't a bad team, but doesn't have that playoff tradition and confidence that goes with it.
10 (3-7) Lakeridge @ Central Catholic (7-2) 49 – Player for Player the Rams have one of the most talented defenses in state history. Lakeridge will be without star sophomore QB Eric Dungey who hurt his knee. This could be a tough night for the Pacer Offense.
Jordan Johnson 6A Record
| | |
| --- | --- |
| Week 1 | 23-2 |
| Week 2 | 18-7 |
| Week 3 | 17-5 |
| Week 4 | 15-7 |
| Week 5 | 17-4 |
| Week 6 | 19-2 |
| Week 7 | 17-5 |
| Week 8 | 19-2 |
| Week 9 | 18-3 |
| Week 10 | 9-1 |
| 2012 Season 172-38 | 82% |
2011 6A RECORD 83%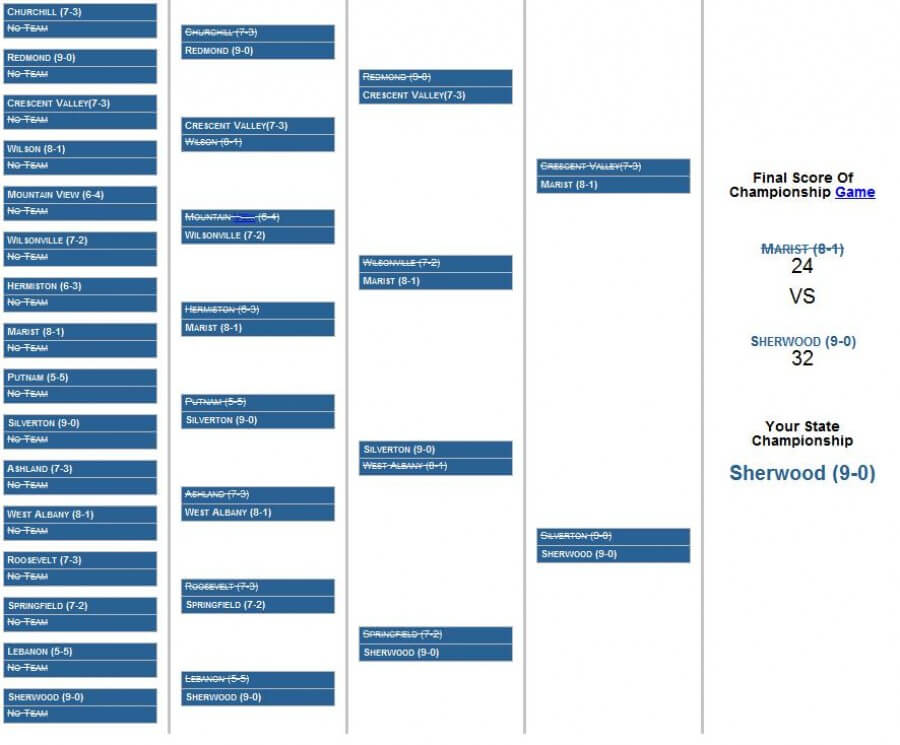 5A Oregon First Round
26 (7-3) Churchill @ Redmond (9-0) 28 – Probably the game im least sure of, because the Lancers of Eugene showed up and looked really good beating Milwaukie last week; I will give Redmond the edge with an undefeated record and 33 seniors, but not by much.
31 (7-3) Crescent Valley @ Wilson (8-1) 26 – The Trojans of Portland have a had a very good season, but CV should win this game with all of the talent on its roster. The Raiders have been playing much better and could make a run in the playoffs..They will have to stop all everything RB Cory Hincks.
24 (6-4) Mountain View @ Wilsonville (8-2) 35 – Rematch of a preseason game played earlier in the year. We are big supporters of both these programs as the defending state champions of Bend feel like they still have something to prove. Look for Shipley, Ragin , and Walsh to do there thing.
20 (6-3) Hermiston @ Marist (9-0) 48 – The Spartans of Marist have blasted everybody since losing for their first regular season game in four years this season to Sherwood. Austin Baird has done a great job carrying the ball and Josh Harper has 15 Td receptions from Kamerun Smith on the year. Hermiston has been up and down, only losing to Sherwood by 7
17 (5-5) Putnam @ Silverton (9-0) 33 – The Foxes D is the best at the 5a level, pitching multiple shut outs. The Kingsmen have a plethora of weapons that include the state's top receiver in Deshawn Stephens. This will be a battle with two great coaches in John Manning and Brad Lewman.
25 (7-3) Ashland @ West Albany (8-1) 42 – The Grizzlies of Ashland have been playing much better, but it will be tough to stop Jake Lacoste who has torched everyone he has played thus far. Look for him to go for over 300+ in the win.
21 (7-3) Roosevelt @ Springfield (7-2) 35 – The Millers are playing there best ball in years and have looked good under the guidance of new Head Coach Dave Heuberger and his staff. Roosevelt has had a good season but hasn't been tested against top competition so this will be a proving contest.
14 (5-5) Lebanon @ Sherwood (9-0) 48 – The Bowmen are cruising behind the running of Cristian Morris and a plethora of other guys; Lebanon had an impressive win last week against an underrated Bend team but this will be really tough.
Jordan Johnson 5A Record
| | | |
| --- | --- | --- |
| Week 1 | 16-7 | |
| Week 2 | 15-4 | |
| Week 3 | 17-5 | |
| Week 4 | 15-5 | |
| Week 5 | 18-2 | |
| Week 6 | 20-1 | |
| Week 7 | 18-1 | |
| Week 8 | 15-7 | |
| Week 9 | 20-0 | |
| Week 10 | 5-3 | |
| Season | 159-35 | 82% |