Devante Downs Highlights http://www.hudl.com/athlete/316221/highlights/29677378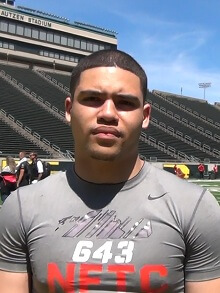 One of the top junior combo athletes in the country, Devante Downs (6-3 230 Jr. RB/LB) of Mountlake Terrace, has been hard at work and just finished up a very successful regular season.
Watching his video you see a kid that looks more like a college athlete, yet he is still an underclassmen. This past year he proceeded to rack up 1st team all league honors on both sides of the ball, while earning his first couple Division 1 offers from the University of Washington and Utah.
Downs went for 1,270 yards and 23 Tds, almost pulling off their first playoff win in school history before losing to Kennedy 35-29. The best thing about Devante is his focus off the field. So often you a see an athlete waste god given abilities, but not in this case. He has a 3.6 GPA and takes courses at the college where he earns both high school and college credit.
He is a man amongst boys in most game settings, and by the time he is done he will have a plethora of offers to choose from. "I'm grateful to have a couple offers, and I'm going to be training all off season to hopefully add some more". Downs is a kid that you will be able to see at our elite events over the off season against the other top competition from the region.
"We did well as a team and got better every week, and ended on a positive note almost getting that first playoff victory ever for the school". Both Devante and top senior safety Mason Stone really stepped up to lead the Hawks on multiple fronts. Downs accounted for 6 sacks, 63 total tackles, with an outstanding 17 tackles/assists for loss. He would prefer to run the ball, but his overall athleticism makes him a versatile threat at the D1 level on both sides.
Academics are important to Devante as he is a very well rounded individual. Schools such as Notre Dame and Stanford are both very intriguing to him. He is keeping his options wide open and will see things pick up a great deal once the season is over. Downs is a quality kid and someone all of us at NEI/Barton Football think very highly of. We will continue to keep you updated on everything as it happens.