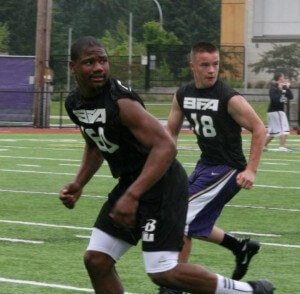 Micah Breland (6-2 220) of Foster picked up his first offer as Idaho State University of the Big Sky Conference made it official today.
Breland said "I would like to give love to my family for keeping me grounded and also to the man upstairs."
Breland was a standout at all NEI events he attended last off season and was part of the NEI North team at the Vegas 7 on 7 Tournament.
2012 was a great year on the field for Micah as he has been named 1st Team All-Seamount League. He was also named the League Defensive Back of the year which is awarded to the best LB/DB.
In 2011 Breland began to break out and finished with over 7 tackles per game on his way to being named 2nd Team All-Seamount League.
Micah is a great kid off the field as well. He currently sports a 3.6 GPA while taking some very tough AP courses. In September we wrote an article labeling him "The Most Under Recruited Athlete".
Right now there are a host of schools interested in Breland and other offers might not be far behind. We look forward to bringing you the news on which school is next to toss their name into Breland's hat.