Here we check in with Oregon bound lineman Doug Brenner who just broke Jesuit's all time lifting record; Graham-Kapowsin's Kahlil Dawson who is one of the best corner in the west and headed to Portland St; The KingCo 3A All Purpose Yards Leader Risley Lesko of Mercer Island.
Jordan Johnson – NEI
Oregon commit Doug Brenner sets all time lifting record at Jesuit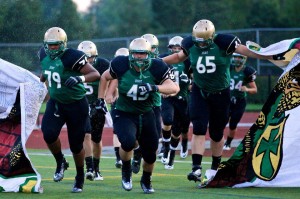 A kid we have gotten to know well over the last couple years, Doug Brenner (6-3 280 Sr. OL/DL) of Jesuit, is a man child. He has been a physical specimen from a young age, and he will be taking his talents to the University of Oregon next season to play for the Ducks.
Recently Brenner became the first athlete to ever enter into the 1300 pound club at Jesuit High School. His lifts of 405 on the bench, 355 on the clean, and 540 on the squat put him into a category by himself.
Brenner had been offered by Oregon St, Oregon and a host of other schools but committed fairly quickly to the Ducks. He comes from a very athletic family where his sister Elizabeth is maybe the greatest female athlete to ever come through the state of Oregon. The Ducks like Doug as a center/guard but he has played a variety of different positions all throughout high school.
Doug is in the middle of trying to help his Crusaders win a 2012 state title. He is a humble kid and nonchalantly says, "hey JJ just wanted to keep you updated, I made the 1,300 pound club which is the first time that's ever been done at Jesuit". I would like to say I was surprised but not so much. Brenner will be a huge addition for this Oregon program as his character speaks volumes.
Portland St Commit Kahlil Dawson ends career as one of Graham-Kapowsin's best players ever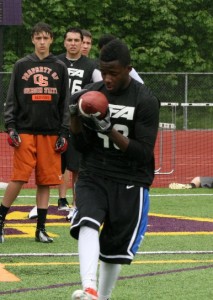 Kahlil Dawson Highlights – http://www.hudl.com/athlete/1695964/highlights
If you are a Portland St Vikings Football fan be grateful that Head Coach Nigel Burton snagged a super talented DB very similar to himself. Kahlil Dawson (5-9 165 Sr. CB/ATH) of GK finished his senior season much like he started it, running circles around opponents. Dawson is a lock down corner that projects on the defensive side of the ball, that ended up going for 1400 All Purpose Yards offensively.
His stats included 28 catches for 635 yards and 3 Tds, with 19 carries for 409 yards and 4 touchdowns; Add in 8 kick returns for 236 yards and a TD, and 8 punt returns for 132 and you have one of the most versatile athletes in the northwest.
Dawson was a part of our NEI-North squad that traveled with us to Vegas, as he has also been training at the academy since he was a freshman. He did not allow a single TD from his corner spot, and also added 27 tackles, 4 pass break ups and 2 Int's.
Kahlil is a great kid and someone we have enjoyed working with over the years. We look forward to having him down here in P-Town watching him do work at PSU.
Mercer Island's Risley Lesko ends season as 3A KingCo All Purpose Yards Leader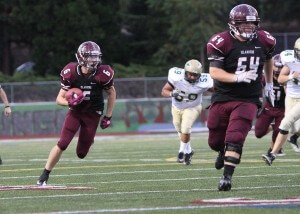 Risley Lesko Highlights – http://www.hudl.com/athlete/90193/highlights/18778377
MI's go to guy all season long was talented speedster Risley Lesko (5-11 185 Sr. ATH/DB). You can't teach pure quicks and that's what he brings to the table. He comes from a family of D1 and professional athletes and showed what he could do this season.
Lesko went for 1,190 all purpose yards not counting their cross over game (663 rushing, 271 receiving, 252 return yards). He averaged 6 yards per carry and 12 yards per reception, and earned 2nd team all league honors. He is the type of kid that every coach wants on their team as he is a dedicated student athlete that does and says the right things.
Risley is receiving interest from a host of schools all over the country, as he is an individual you could have in multiple spots all over the field. He says, "football is something I love to do and I couldn't imagine going on to college and not playing". He did a good job carrying the rock last season, but played with one of the top QB's in the country in Jeff Lindquist so he stayed somewhat under the radar. We have Lesko ranked as one of the top Slot/ATH's in the State of Washington, and he showed why in 2012. Congrats to him and his Mercer teammates, they have been outstanding kids to work with.