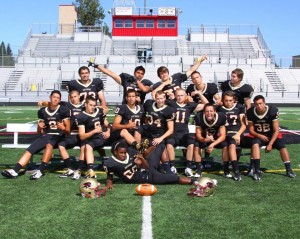 It's been a crazy year to say the least, but one I think the kids from Murrayhill can be very proud of. The Southridge Skyhawks play in what many consider the state's toughest conference in the Metro League.
At the beginning of the year they were not ranked in the AP Top 10 where we had them at #6. We justifiably hear a lot about Jesuit and Aloha who both have outstanding athletes all across the board. The Warriors have one of the country's top backs and lineman in Tyner and Brayden Kearsley. Jesuit sports a D1 line that averages 6-5 290 up front, with all state skill kids everywhere.
So the question becomes how do the Skyhawks continue to beat everybody? The combination of quality coaching, a phenomenal youth program, and just some sick athletes make Southridge legit almost every year. They currently sit at (7-3) with all three close losses coming to Top 10 teams in #1 Sheldon, #2 Lake Oswego, and #8 Tualatin.
They swept the Metro going undefeated (5-0) and haven't looked back since, recently blasting a respectable West Linn team 59-14 in the first round of the playoffs. First year head coach Doug Dean has done a phenomenal job keeping everyone on the same page and compiling maybe the most impressive group of coaches in Oregon. Its a laundry list of former NFL and D1 guys, who just happen to coach in one of the most athletically successful communities in the state.
Brian Cassidy is one of the top lineman to ever come out of the northwest after an All American career at Stanford, and projected 1st round NFL entrance before a career ending injury. Cassidy was one of my coaches in High School and was a part of some Beaverton teams that didn't lose. Many people would reiterate that what he has done with certain lines over his career is nothing short of amazing. I witnessed it first hand so I can tell you there isn't a better line coach in the northwest.
This years group has talent, but had no varsity experience coming in and wasn't big by any means. What they have achieved against some of the country's biggest and most talented lines has been incredible. No one, including myself gave them a chance against the Jesuit and Aloha's up front cast and they more then held their own.
In summary the Southridge area is the ideal place to raise a family and put yourself in a position to succeed athletically. The Skyhawks overcame a lot both this year and last, after losing multiple non league contests to start the season. What they have done shows the talent level that resides at the school, but more importantly a team concept that everyone has bought into. Have a look at the 2012 Metro League champion Southridge Skyhawks.
QB – Reza Aleaziz, AJ Woodin, Peyton King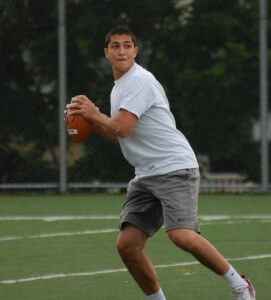 Reza Aleaziz (6-4 220 Sr.) is maybe the top 3 sport athlete in Oregon. He came back late in the season after initially thinking he would sit out the year after receiving a full ride to Oregon for baseball. The first team all league QB from 2011 came back, and has done an outstanding job the past few games. He is legitimately one of the top 2 senior QB's in the state, and also has dominated as a hooper along with baseball. Aleaziz returning was a unique situation and it took understanding from all parties. This alone shows why Southridge beats everyone with team unity and not individuality.
Junior AJ Woodin (5-11 185 Jr.) handled the duties through the first 6 games and did a good job against elite competition. You are not going to find a kid with a better work ethic as he has embraced his role. When Aleaziz returned Woodin was leading the Metro League in passing yards, but Aleaziz is one of the top QB's in the entire northwest so there is no shame in backing him up.
Peyton King (6-3 170 So.) is another name we will hear a lot moving forward, as he is a talented sophomore with good size that unfortunately went down with a season ending injury.
RB – Devin Martinez, Jake Pruit, Maleke Nathman, Michael Parks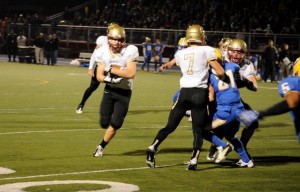 Southridge has one of the top 1-2 punches in the state with Devin Martinez (5-8 190 Jr.) and Jake Pruit (6-3 215 Jr.), and the exciting thing is that they are both underclassmen. Martinez earned first team all league honors as a sophomore after transferring from Cali. He exploded on to the scene and is a kid that we have ranked as one of the top 3 Jr backs in the state.
After some injuries to Martinez, one of the region's top lacrosse players in Pruit stepped in and absolutely killed it. He is now proving that he is a legit D1 athlete on multiple fronts with an outstanding junior campaign. He's just a big, fast, and very athletic kid that can flat out get it done. He earned 2nd team all league honors where Martinez grabbed 3rd team, but also fought with injuries.
This could be the top underclassmen duo in Oregon or Washington, and things are only looking up as Coach Cassidy has his lineman dialed and ready to block for them.
FB – Zack Wilbur
Talented Sophomore that has gotten some time and done a very good job as of late. Look for Wilbur (6-0 190 So.) to be one of the building blocks of the Southridge youth movement.
TE – Eric Scruggs
Scruggs (6-3 200 Jr.) has been awesome all season, and been one of the teams top overall players. He made his prescience known last year, and earned 2nd team all league honors this year.
WR – Jordan Morgan, Justin Calo, Kevin Mclean, Alec Powell, Alex Beekman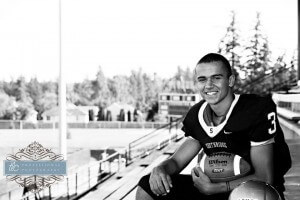 http://www.hudl.com/athlete/232119/highlights/25012419 – Jordan Morgan Highlights
Probably the most talented cast in Oregon with Jordan Morgan (6-2 195) being the #1 ranked Jr WR in the state, and both Justin Calo (6-1 175 Sr.) and Mclean (6-4 195 Sr.) being ranked in our Top 10 among all receivers statewide. Calo earned first team all league honors this season after being one of the state leaders in yards per catch as a junior.
Mclean has been an all league kid since his sophomore season and looks the part. He's an outstanding overall athlete and someone with a huge upside moving forward. He spent most of his time on defense as a senior, but can go either way being a 3 time all league athlete.
Jordan Morgan has just gone off in 2012 accounting for 14 Tds and first team all league honors. He projects at the D1 level and has a highlight video that won't quit. He is one of Oregon's top long jumpers and someone that is just going to get better. Between these three and top DB Alec Powell (6-1 185 Sr.) who also plays receiver, the state doesn't have a better foursome.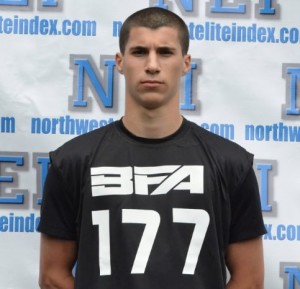 OL – Tyler Cox , Danny Tanabe, Eric Martin, Jim Weber, Walker Lukens, JT Taula'i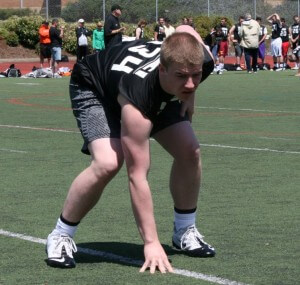 http://www.hudl.com/athlete/431103/highlights/23310390 – Tyler Cox Highlights
This is where it get's crazy. Coming into the year we knew Tyler Cox (6-3 235 Jr.) and Danny Tanabe (6-1 260 Jr.) were talented kids but neither had much varsity experience. Cox attended all of our elite events in the off season and did very well for himself. He has been the rock that the Hawks have needed all year long doing everything asked of him and then some. He earned 3rd team all league honors and has a highlight film worthy of a watching for years to come. Cox went against the likes of high profile D1 guys such as Brayden Kearsley (6-5 290 Sr. Aloha), Andrew Kirkland (6-5 300 Sr. Jesuit), and Max Rich (6-7 315 Sr. Jesuit).
Tanabe was hurt earlier in the year but the kid is a baller. He is one of the better underclassmen in the state, and can play on either side of the football. Tanabe has a mean streak that goes along way with being a successful up front kid, so we see him as an individual that you can expect big things from moving forward.
Props to Eric Martin (5-11 230 Sr.) who had an extremely impressive year, earning first team all league honors. Sophomore Jeremiah Everett (6-0 260 So.) is one of our favorite young lineman and very similar to Mike Kluge in that he isn't tall for an OL, but moves mountains. He is another kid you want on your side as he is someone that can physically dominate you. He earned second team all league honors, and is an athlete that we have ranked among the top lineman in Oregon for his class.
DL – Jake Henning, Rhyce Pruit, JT Taula'i, Sean Cleary, Tyler Saunders, Saud Alnimer, Travis Johnson

You have to respect what these kids have done on the defensive side of the ball. It is a win as a team approach that has been embraced by all of the athletes within the system. Rhyce Pruit (6-1 230 Sr.) has been a monster all year and caused havoc up and down the line for offenses after returning from injury. He recently earned 1st team D line honors and has been the senior leader they have needed up front.
Jake Henning (6-0 220 Sr.) is a kid that earned 2nd team honors on the defensive side of the ball stepping up big, and filling a role that they weren't sure of. One of the sleepers that has had an incredible year has been junior JT Taula'i (6-3 200 DE/OLB/TE) who we will be adding to our rankings board. He is still growing into his body, and is someone that you could be seeing starting on both sides of the ball next season.
LB – Matt McRae, Logan Sackley , Mike Varadi , Eric Scruggs, Pepe Tanuvasa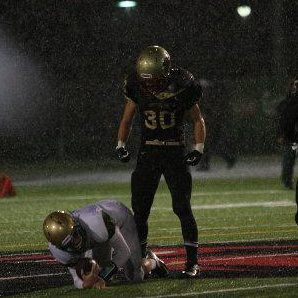 If we are talking about over achievers look no further then the Skyhawk backers. Matt McRae (5-10 185 Sr.) came in last year earning himself a starting role and never relinquished it. He is your classic kid not supposed to be big enough or fast enough, but just a very talented football player. He earned 1st team all league honors this past season and is a senior leader.
Mike Varadi (6-0 225 Jr.) is ranked as one of our top 10 junior backers state wide and Logan Sackley (6-1 185 Jr.) could be the most underrated player in Oregon. The all league stuff doesn't always pan out the way it should, but the fact that neither one of these kids were voted all conference is ridiculous. Varadi will be a 3 year starter, and I have heard more good things about Sackley in the last few weeks then I do about most kids in a career.
Add in Scruggs who is a senior leader on both sides of the ball and Pepe Tanuvasa (6-0 195 So.) who has recently been getting some time, and you have an undersized group of backers that are better then almost everybody else.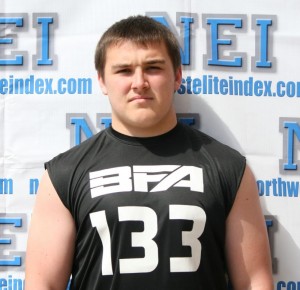 DB – Alec Powell, K evin Mclean, Maleke Nathman, Andrew Ripley-Miles, Tyler Barrett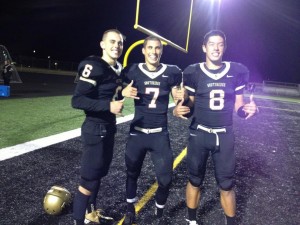 Hands down one of the best secondaries in the state. All four of these kids rank in the top 10 state wide among their individual classes for DB's in Oregon. Powell has D1 genes as his brother Mikhail was a phenomenal athlete at Beaverton HS, before moving on to Hawaii/Portland St. Alec Powell (6-1 185 Sr.) earned 1st team all league honors, and has solidified himself as one of the best DB's anywhere in the northwest without an offer.
Kevin Mclean (6-4 195 Sr.) is equally as good with legit size and length making him extremely valuable as a safety. He is a three year starter and someone that has earned all league honors every year, something very tough to do in the notoriously tough Metro conference.
Maleke Nathman is one of the fastest rising underclassmen in the state among DB's, and is a kid that could legitimately earn himself a scholarship with his continued play. He is a talented running back as well, but has really come into his own as a corner.
Sophomore Andrew Ripley-Miles (6-0 175 So.) was a transfer from Sherwood and was a huge addition for the Hawks. Very few sophomores come in and start in the Metro. He not only did that, but he was one of the best DB's in the league and earned 3rd team all conference honors. He is another kid that we have ranked among the top DB's in the NW for the 2015 class.