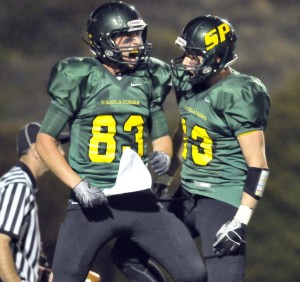 Highlight Films:
Tanner Pauly , Skyler Kelley , Nick Kiourkas and Brett Rypien
When high profile QB Brett Rypien (So, 6-2 175) of Shadle Park looks down field, he has three of the top Jr WRs in the state to pick from. Nick Kiourkas (6-3 195), Tanner Pauly (6-0 175) and Skyler Kelley (6-0 180) all had great 2012 seasons, but are not satisfied with numbers and a crossover playoff game.
The Highlanders did things through the air that isn't normal for the usually more run heavy Greater Spokane League. On the season Rypien finished with the GSL's All-Time record of 3,179 passing yards which was 924 yards more than the previous record. The Shadle Park trio of WRs actually finished 1-2-3 in receiving this past season.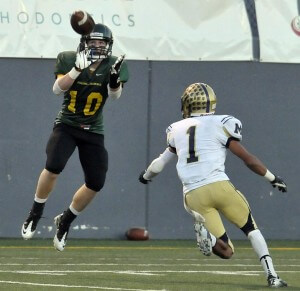 Catching passes and breaking records, Tanner Pauly was Rypien's favorite target as the two connected 64 times on the season. That number tied Pauly for the single season GSL receptions record with Cody Glasgow (Rogers, 2002). Pauly became just the 4th GSL WR to top 1,000 yards and his season total of 1,110 yards was a new single season high for the GSL, passing the previous mark of 1,091 by Jason Bates (Ferris, 2009).
In a week 8 loss to Central Valley, Pauly had 13 catches, ranks him 3rd for a single game, and his 298 yards broke the 27 year old single game record of 283 yards held by Chris Claypool (University, 1985).
Being a just a junior and still having another season left, it is possible that Pauly could finish his career as the GSL's career receiving yards leader. He is currently 10th all-time and only 646 yards behind Jeff Galloway (Ferris, 2000-02).
Success didn't come easy for Pauly who has worked hard to get where he is. "This last summer I was told if I work hard enough I could do good things," Pauly said. "I didn't miss one workout or conditioning all summer. I went to every 7 on 7 event and ran routes with Brett in my spare time."
The passion for football is evident in Tanner who began playing in 5th grade. "When I got home from school my three brothers and I would play in our side yard, that's when it hit me how much I like it". Pauly continues, "From the first time I watched a football game I knew I wanted to play in college."
Not far behind Pauly in receptions was Skyler Kelley who finished with 58. Coming with all those catches is also 712 yards and 2 TDs. His 11 catches in the Central Valley game ranks him 5th for receptions in a single game.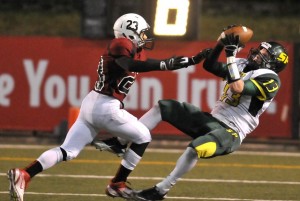 When speaking to Rypien about Kelley he said, "Skyler is our most underrated receiver. He should've been first team all-league. In my mind, he is our best all-around guy."
Skyler gives a lot of thanks to his family, "I have a sister (currently attending BYU-Idaho) and two brothers (8th and 3rd grade). We are a close family and spend a lot of time together". He continues, "My parents are my biggest fans. My dad is my best friend and has taught me to work hard in everything I do. My mom give me lots of hugs and support."
Kelley also plays basketball and already has two varsity letters to show for it. In the offseason he plays for the Spokane Swish Elite, a traveling basketball team that is competitive around the nation.
The only one of the three you wont see in class at Shadle Park is Nick Kiourkas who actually attends Northwest Christian High School where he sports a 3.65 GPA. "I have a unique situation as I play basketball for Northwest, but I play football for Shadle Park because NWC doesn't currently have a football program". He continues, "I enjoy going to NWC because of its high academic standards, where average is frowned upon."
Nick considers himself to be more of a possession receiver and this year he did just that finishing with 43 catches for 605 yards and 4 TDs, but that isn't good enough for Kiourkas. "Five days a week I am up at 4:30 a.m. in the weight room," he said. "Every person I tell this usually usually makes fun of me or tells me I'm crazy, even my parents. My mom frequently tells me I am nuts."
I think a little bit of me might have become a Shadle Park fan as this article was extra fun from my perspective. All four kids were an absolute joy to work with and I wish them the best of luck in the future. You can be sure that I will be writing about these kids again in the future.
Stats in this article were provided by @WhitworthCoug