Sprague @ Tualatin
** Myself (Jordan Johnson) and Todd Pickett will be doing the broadcast of the Sprague/Tualatin Game LIVE for anyone that would like to watch it… You may go to OSAA.TV or Playonsports.Com to view the broadcast if you can not be in attendance.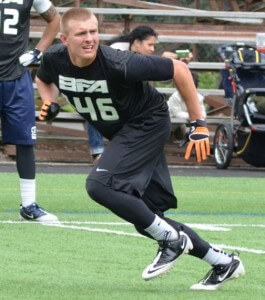 A team that has a shot in the state playoffs after a big regular season is Sprague out of the Central Valley Conference. They are senior dominated and return a host of all league talent, that is currently sitting at (9-1) with a close loss to West Salem. There are a host of kids that are making this a special season for the Oly's, but the linebacker/running back tandem of Austin Wilson (6-3 220 Sr. LB) and Devvon Gage make things go.
Wilson and Gage both received 1st team all league honors, Wilson at LB and Gage at RB. Devvon Gage (6-3 215 Sr. RB/LB) earned second team honors at LB, and I would beg to differ with the voters on that. He went off offensively accounting for 1154 yards and 17 Tds through the regular season, and is a kid that I consider one of the most overlooked athletes in the northwest. His overall size and speed are unique, as most kids that big can't move the way he does.
Austin Wilson is the ideal leader that every coach wants on their team. He is the brother of former D1 linebacker (OSU) and local standout Tony Wilson, who is an equally good kid. Wilson has a ridiculous upside, as he too has legit size and is an athlete that just loves the game. He was the team leader in tackles and came up clutch time and time again in key situations throughout the year. Much like Gage, Wilson has flown under the radar and would be a steal at the D2 level if that's where he ends up.
Speaking of monster seasons the name Zach Sweet (6-0 215 Sr. DE) comes to mind as he terrorized opponents all year from his D end spot accounting for 10 sacks, making him one of the state leaders. Quarterback Jon Schaub did some of the same earning Player of the Year honors, while throwing 24 Tds to only 3 Ints. Without Schaub none of this happens, its been one of those years where all the pieces fell into place.
"Sweet's a beast", Wilson said. " People can't guard him, he just takes it to another level during the games". Zach's another kid that has gone under the radar on the recruiting front largely due to the fact he plays out of position. We are adding him to our rankings board on the defensive side of the ball, as he has been one of the most impressive players state wide.
Coach Jay Minyard has done a remarkable job coming over from Mckay a season ago. He is a players coach that is well liked, and fits in well within the communmity. Sprague hasn't had a senior class this talented in years, and has embraced this season after falling off for a few. The Central Valley Conference hasn't been what it once was and these kids are trying to change that.
Nick Moran (5-11 180 Sr. WR/DB), John Marshall (5-9 165 Sr. RB/DB) , and Austin Johnson (6-5 185 Sr. WR/S) are three other athletes that need to be mentioned as they have all had big seasons. Moran caught 29 passes for 549 yards and 9 Tds, while Marshall has 740 all purpose rushing/receiving yards and 9 Tds through the regular season as well. Johnson is a kid that you can throw a jump ball too any time in need, and he can go get it. He has an impressive 15 receptions for 392 yards and 4 Tds on the year.
The line has been solid lead by the likes of Connor Astley, Ricky Julian, and Riley Long. Riley's younger brother Levi is one of our top ranked sophomores so we are excited about what he does moving forward.
This is a special year for Sprague Football, and I will continue to say that the Oly's are one of my sleepers as I have them beating Tualatin in round 2, a selection not followed by many. I like what Coach Minyard and has his guys have done, and we look forward to keeping tabs on their success.