http://www.hudl.com/athlete/762037/highlights/17658374 – AJ Glass Highlights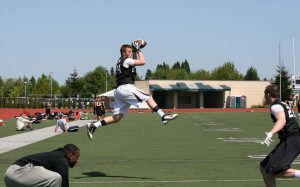 The Jesuit Crusaders are playing the best ball of their season, and northwest top RB AJ Glass (6-1 200 Sr. RB/S) only helps bolster the Crusaders chances at another state title. Glass basically missed the entire Metro League season with a broken collar bone, but made a return in the 1st round of the playoffs against Centennial and was cleared in 5 weeks.
Glass is a kid with multiple IVY League offers and a host of other D1 and D1aa's very intrigued. He's not your prototypical back, and has ran wild for the past two years. 3300 yards and 46 Tds later Glass is statistically one of the best backs in Metro League history. In 4 1/2 games before injury he had racked up 19 TD's with 1200+ yards, which put him on pace to break multiple school and conference records.
In 2011 he rushed for 2006 yards and 25 Tds as Jesuit lost in the state semi's to eventual state champion Lake Oswego. AJ is a kid that puts team first and is focused on the playoffs, " It was good to get back last week, get a few carries and take some hits". He continued, " I feel like im at about 80% and healing well, so I should be able up my carries every week".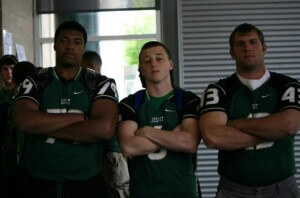 Glass carried the ball 8 times and scored 2 Tds last week upping his season total to 21. AJ's a team guy and just wants to win, " whatever I gotta do to help my team", Glass says. " We all have the same goal which is to win a state title, and I will do everything asked of me to help us get there".
The last few seasons he has put the team on his back in spurts, carrying the ball 40+ times a game. Joey Alfieri (6-3 220 Jr. FB) and Chase Morrison (5-10 165 So.) are two of the top underclassmen in the entire northwest, and have done a phenomenal job in AJ's absence.
We have talked about what makes Glass a great back and its fun to watch a mixture of speed, power, and side to side agility. His ability to bounce off tackles and maintain top speed is unique. Years of skiing and an outstanding work ethic have made Glass the back that he is today, and now all he wants is a title.
"Most people know how talented our line is, and its been great to a have a bunch of D1 guys up front". The Crusaders have Oregon commit Doug Brenner (6-3 280 Sr.) at center, Washington commit Andrew Kirkland (6-5 300 Sr.) at tackle, and Washington St and 7+ offer kid Max Rich (6-7 315 Sr. OL) blocking for him. Dominic Baldocchi, Ryan Brown, Charlie Landgraf, and David Brugato are other top individuals doing work up front.
The Nevada Wolfpack will be in town and making an in house visit to Glass, who has raised eye brows from a host of schools all over the country. AJ was a second team all league safety at West Linn as a sophomore, and he gives you a host of options on both sides of the ball. On a personal note I can't say enough good things about AJ Glass as a kid, regardless of what he does in life he is going to be successful. Stay tuned as the the Crusaders have a legit shot at winning a 2012 state title.