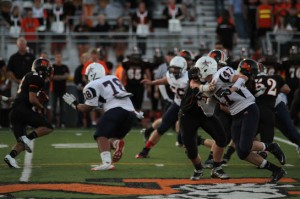 Being 6'1″ and 280 pounds, typically people wouldn't use words like 'explosive' and 'quick' to describe you. That being said, I introduce Thomas Toki.
Just watching his highlight video you will see a kid that is incredibly fast off the ball and has the strength to throw offensive lineman into the backfield.
Lele Te'o is the strength coach at Juanita and also works with the defensive lineman. When I need someone to tell me more about a player I like to go to the guy who works with that player most. Te'o confirmed what I already believed and even went beyond.
"Probably the most explosive defensive lineman I've had the pleasure of coaching. His first step is elite level stuff," Te'o said. "I've coached a handful of all state kids that performed at a high level, but this kid could end up being the best of that group, that includes five All-State guys and All-American Senio Kelemete."
As a freshman at Edmonds-Woodway, Toki was voted as 4A Wesco South Honorable Mention. After a phenomenal 2012 season, Toki was honored as a 1st Team All-KingCo 3A. Te'o said, "Not many sophomores get 1st team love in KingCo. We are very lucky to have Thomas Toki."
In only 7 games this season Toki had 15 Tackles For Loss totaling 49 yards lost for his opponents. That number was one short of Myles Jack from Bellevue who played two more games.
Speed and agility are key to what Toki does. In the offseason he work with his uncle doing drills designed more or wide receivers. "I've got to work on my speed and quickness, strength is a given" Toki said.
Strength is a given might be an understatement. "Kids always inflate their bench numbers and I thought he was doing that our first time in the weight room," Te'o said. "He told me he was a 350 bench the last time he tested so I just put 315 on the bench thinking he'd struggle… Five reps later we up'd the weight. He finished at 375."
Last season Toki also wrestled, but gave it up to focus on football. He attended camps and even a few Tonoa Bowl events. Toki said, "It was a great experience. I got to compete against that were older than me and get a better feel for what the high school game is about."
With a great group of young players and some of the best coaching in the state, you can expect to see more about Toki and the Rebels program in the near future.