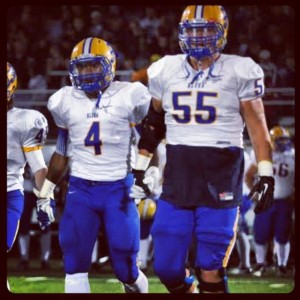 One of the top lineman to ever come out of the northwest, Brayden Kearsley (6-5 290 Sr. OL/DL) of Aloha, just recently got some big news from Tom Lemming and the Semper Fi All American Game. He was invited to participate in the January event, topping off what has been a phenomenal career for the big man.
Kearsley says, " Im honored to play in the game and I feel that all of the hard work has really made a big difference allowing me to compete against the best in the country". He continued, "Im looking forward to the experiences that come from the game and meeting all of the other guys".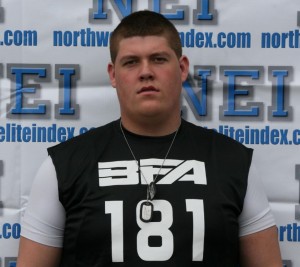 Brayden is focused on his season right now and getting his team to another state championship. That said, he has finalized some things with recruiting and will now be choosing between 4 Pac 12 schools and BYU. He will take a couple visits starting in a few weeks and has Oregon St, Washington, Arizona St, and UCLA on his final list.
He says, "I'm getting a little tired of the recruiting process and can't wait to take my visits, and make my decision with my family and friends that mean the most to me". Brayden will forgo the ceremony at the school and make his decision at one of our local sporting restaurants. He has invited myself and Taylor Barton who will look forward to joining the Kearsley's and close friends on this big day.
If I was to bet on any athlete in Oregon or Washington making it to the NFL and having a successful career it would be Brayden. He is ranked as one of the top lineman in the country, and has a nastiness needed to compete at the highest level. He is a projected college all american, that admits the Pac 12 is very intriguing and something he is looking closely at.
Kearsley will be making his decision in early January after the Semper Fi Game and we look forward to the big announcement.
Brayden Kearsley and Aloha take on Glencoe