Joey Alfieri Highlights – http://www.hudl.com/athlete/762028/highlights/29095373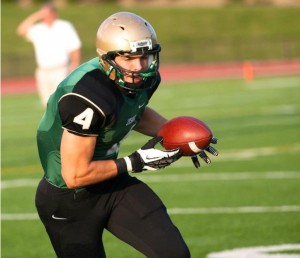 Over the last couple years we have gotten to see some talented dual threat athletes. The cast of LB's represented in the Oregon 2014 class is one of the deepest in state history, and the #1 kid on the board as of right now is Joey Alfieri (6-3 222 Jr. LB/RB).
He was a first team all league linebacker as a sophomore in the toughest conference in the state. His combination of size and speed, along with NFL genes make him a very appealing prospect to D1's all over the country. He's a quality kid that you don't have to worry about off the field, making Alfieri our top ranked linebacker for the 2014 class.
Anyone wanting confirmation can go watch his highlight film as he blasted kids all year long. He earned first team all league honors on both sides of the ball and is an equally good fullback with speed.
The Crusaders are playing as well as anybody in the state, and Alfieri understands that there is no room for mistakes with such a competitive field ahead, he says " this time of the season its do or die, win or go home…the pressure is on and we have to play every game like its our last because it very well could be".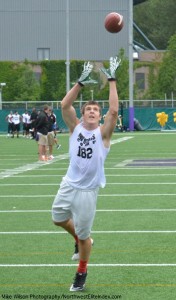 Jesuit is (8-2) but has really come into a zone as of late, "We seem to be peaking right now as a team, our practices are crisp with little errors and our games are the same". Alfieri continued, " Our main goal is to win a state championship for the first time since 2005, which would would obviously be a big accomplishment".
Alfieri has accounted for 108 tackles and 8 sacks on the year and moves quick to the ball with unteachable anticipation. His father Phil played for the Oregon St Beavers and the New York Jets so he understands the dedication that it will take to play at the highest level of football. His brother Nick was a standout at Jesuit as well, and is currently playing at Georgetown. The bloodlines do help and schools are aware.
We don't know when but Alfieri is most definitely an early offer kid. His 4.5 forty and 10 Tds offensively only speak to his overall athleticism, and is upside is off the charts. He would be most teams featured back, but they also have two of the state's best in senior AJ Glass and Sophomore Chase Morrison.
Joey says, "personally I would like to earn first team all state honors, and be able to head into the off season with a state championship under our belt". He continued, "during the off season I will be going to several different colleges and also attending the All American Combine with Henry Mondeaux".
We are big fans of Joey as an athlete and also as a kid. He's an academic standout, and we will be looking forward to seeing him compete in the off season at our elite events against the other top competition from around the region.