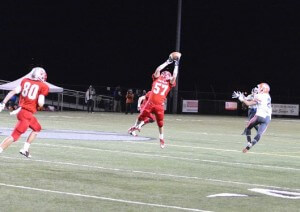 To call the Mount Si defense nasty would be a bit of an understatement. The Wildcats have been putting a lot of zeros in opposing box scores and the leader of that defense is Sr. LB Hank Van Liew (5-11 205).
Looking over the KingCo stats you will see Van Liew's name in every defensive category. He led the league in tackles through the regular season averaging almost 7 per game while racking up 9 tackles for a loss, which placed him 4th in the league. Van Liew also finished tied for 2nd in INTs and 7th in Sacks.
Opposing coaches took notice of Van Liew's play as this season he was voted 1st Team All-KingCo and nominated for All-State. This betters last season when he was given Honorable Mention after another top 10 season in the tackles category.
Watching Van Liew's film you will see a player with some of the best football instincts in the state. Speaking to Mount Si Asst. HC/DC/LB coach Wayne Lewis, "He is my eyes and ears out there. I will make changes based on what Hank tells me."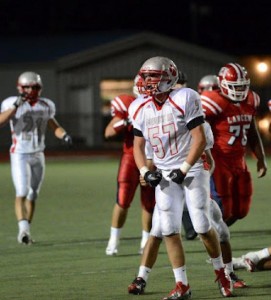 Most of the attention is given to the DBs at Mount Si and rightfully so. They are without a doubt one of the best secondaries in the state. Even they will pass a lot of credit off to Hank. "He is one of the hardest working kids and just loves football. It's more of an obsession to him," Says Sr safety Hunter Malberg. "Without him our defense wouldn't be where it is today."
In the offseason Van Liew takes his trade to the Rubgy field as a member of the Eastside Lions. Rugby might even be a possibility for Van Liew in the future as Central Washington is interested in him playing there next season. Often at the D3 level the financial assistance offered by a Rugby program can exceed that of football.
Van Liew's smart and rigid style of play reflects that of a Rugby player. Sr CB Jimbo Davis says, "Hank is the hardest hitter. He is very instinctive, aggressive and has a nose for the ball."
Football options after high school are plentiful for Van Liew as a host of D3 schools are aggressively pursuing his services, including top 25's Elmhurst (IL), Pacific Lutheran (WA), Bethel (MN) and Concordia-Moorhead (MN).
Mount Si is a program that has a lot of good going right now. Their Jr Football programs is one of the best in the area and with head coach Charlie Kinnune at the helm, you can expect the Wildcats to always be tough. The community support in the Snoqualmie/North Bend area is 2nd to none and game nights show that.
This Saturday the Wildcats take on a Kennedy Catholic Lancers (9-1) team they shutout 30-0 in week one. Since that day in Burien the Lancers have been a different team and the Wildcats know that. I will be in attendance and look for this to be a good game with one team moving on to play the winner of Peninsula @ Bellevue in the Tacoma Dome next weekend.