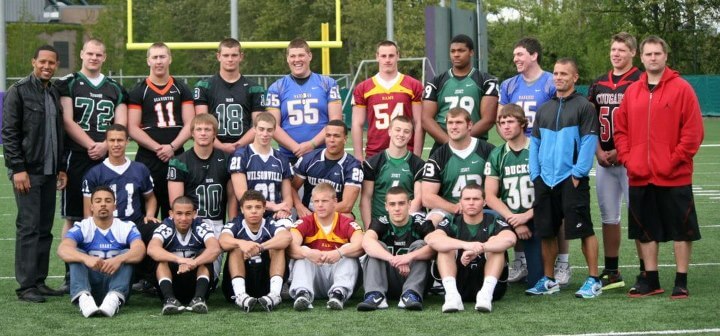 6A SCORES
14 (6-4) Thurston @ #4 Jesuit (10-0) 52 – Jesuit is playing their best ball of the season and firing on all cylinders. AJ Glass has returned from injury and Joey Alfieri is playing lights out defensively. If the Crusaders can stay healthy they have as good a shot as anybody to win the 2012 state title. I think they will put this one away early and be able to cruise into the quarterfinals.
29 #10 (9-1) Sprague @ #8 Tualatin (9-1) 28 – This could go either way as Tualatin has a talented defense and outstanding coaching staff. The Olys' are legit and will pound the ball with the 6-3 Devvon Gage. The 41-0 loss to Tigard still resonates as I see Sprague running thee ball and trying to control the clock.
53 #1(10-0) Sheldon @ Roseburg 13 (6-5) – The Irish blasted Roseburg a few weeks ago, but don't expect them to take this lightly. Sheldon seems to drop 40-50 on every team before half, because they prepare for each team the same. This will be the last week that they don't face a stiff test as they have averaged a 53-8 victory over opponents after the regular season.
20 (8-2) Century @ #6 Southridge (7-3) 40 – I think Century will show up and compete as Sam Riddle is a born leader, but Southridge is playing as well as anybody in the state. The Hawks will run the 6-3 Jake Pruit and very tough Devin Martinez right at the Jags, and set up a one of the most potent passing attacks in Oregon. Look for Jordan Morgan to go off one way or the other.
13 (8-2) South Medford @ #2 Lake Oswego (10-0) 42 – The defending state champions have a confidence about them that is hard to get past. They will take their 24 game winning streak into a game against a highly respected Panther team from down South. The Lakers are going to be tough for anyone to beat, defensively they are as good as they come.
28 #9 (9-1) West Salem @#7 Aloha (8-2) 34 – Such a tough game to call. The Titans are so well coached that you know they will be all over Tyner and attempt to make someone else beat them. Tyner went for 430 last week against a fairly good Glencoe defense, but I don't expect those numbers to be duplicated. If you don't have a legit D Thomas will beat you by himself. I think Cade Smith will show up and play well, but I will take the Warriors in a close one.
21 (6-4) Canby @ #5 Tigard (10-0) 38 – Canby is playing their best ball of the year, but so is Tigard. The Tigers have been running all over everybody and I don't see them trying to do anything different. Injuries to Benny Wick and Chance Taylor make this a closer game then earlier in the year, but the Tigard offense has just been nasty and no one has really stopped them yet.
14 (6-4) Sunset @ #3 Central Catholic (8-2) 34 – Sunset has one of the better young QB's in the state in Willy Pflug, but CC will be all up in bis grill on Friday letting him know they mean business. Sunset has a good D and they will need to play lights out to keep themselves in the game. I think this is the best Central team in school history so they should be able to pull away.
Jordan Johnson 6A Record
| | |
| --- | --- |
| Week 1 | 23-2 |
| Week 2 | 18-7 |
| Week 3 | 17-5 |
| Week 4 | 15-7 |
| Week 5 | 17-4 |
| Week 6 | 19-2 |
| Week 7 | 17-5 |
| Week 8 | 19-2 |
| Week 9 | 18-3 |
| Week 10 | 9-1 |
| Week 11 | 14-2 |
| 2012 Season | 186-40 82.3% |
2011 6A RECORD 83%
5A SCORES
24 (8-3) Crescent Valley @ #6 Redmond (10-0) 22 – I am weary about this pick, because Redmond has been playing better and better and CV and has been up and down. The Raiders have a ton of individual talent lead by the state's top junior recruit in Tanner Sanders, but the offense sometimes doesn't show up. Redmond returns 33 seniors and beat a decent Churchill team last week who was playing well, and also had an impressive win over defending state champion Mt View. Other then that they had beaten four 4a teams, so it was hard to gauge how they talented they were.
21 (7-4) #8 Mt View @ #3 Marist (10-0) 35 – Mt View is very well coached and has the talent to stay in this game, but Marist has been dominant all season. Offensively it has been difficult for anyone to stop the Spartans and Austin Baird coming out of the backfield has been a positive move.
20 (9-1) #4 West Albany @ #2 Silverton (10-0) 25 – Silverton's defense is the real deal and you know they will be all over Jake Lacoste. That said Lacoste is a freak and will break tackles and long runs if you aren't careful. The Foxes will make someone else beat them, but the Bulldogs are no stranger to big games they will have that on their side. John Mannion and Randy Nyquist are both phenomenal coaches and will have there guys dialed.
16 (8-2) #7 Springfield @ #1 Sherwood (10-0) 49 – Springfield has had an outstanding year, and they have a lot to look forward to with some outstanding underclassmen. That said, Sherwood's ground game is very hard to stop and they should be able to do work early and often on the ground.
Jordan Johnson 5A Record
| | | |
| --- | --- | --- |
| Week 1 | 16-7 | |
| Week 2 | 15-4 | |
| Week 3 | 17-5 | |
| Week 4 | 15-5 | |
| Week 5 | 18-2 | |
| Week 6 | 20-1 | |
| Week 7 | 18-1 | |
| Week 8 | 15-7 | |
| Week 9 | 20-0 | |
| Week 10 | 5-3 | |
| Week 11 | 9-1 | |
| Season | 168-36 | 82.4% |