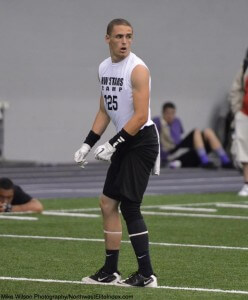 Things on the recruiting front had gone rather slow of late for Mountlake Terrace (Wa.) DB Mason Stone, but recently the talented athlete saw things pick up and recently he received a preferred walk-on offer from the University of Washington to go along with an offer from a WAC program. Stone updated Northwest Elite Index about where things stand and which other schools could be close to offering…
"Yeah, Washington just offered me a preferred walk-on spot," Stone told NEI recently. "It was pretty cool just to know that I have that as an option.
"I actually have a 'soft' offer from Idaho as well. Torey Hunter is the coach recruiting me there and he said they just have to get the new staff in there and let them see my film before that one can be a firm offer, but he didn't think there would be a problem."
With those options, there were some rumors out there that Stone was set to join Washington as a preferred walk-on. He said, at least right now, that isn't the case.
"It definitely puts Washington right at the top of my list, along with Idaho, but I have some other schools recruiting me who may offer. I want to go through the whole process before I make a decision on something like that," Stone admitted. "I'm going to the Portland State/Eastern Washington game this weekend down in Portland and both of those schools are after me. I've also been hearing a lot from Washington State, Boise State, Oregon State and Utah, so things have really started to pick up for me."
Stone is a talented two-way player for Mountlake Terrace, helping lead them to the playoffs, along with top 2014 recruit Devante Downs. He said it was his performances at several camps as well as his productivity and instincts on the football field that have attracted the attention recently.
"As a sophomore I started and I had six interceptions. Then as a junior I had 90 tackles and four picks. This year, I had 55 tackles and four interceptions and I got First Team All-Wesco," Stone said. "During the summer I did really well at some camps. I got MVP at the Northwest Elite Camp and a couple of schools really thought I did well and told me they were going to watch me and see how I did and I think that's a big reason why I'm starting to see the attention.
"All of the schools want me at defensive back. They like the fact that I can cover, I have good cover skills, but they also want someone who can be physical and hit and that's what I do.
"With all of these passing offenses nowadays, schools really want to find those hybrid safeties who can cover receivers, but who also can play in space and guys who will hit you. That's what I do best."
At 6'0, 170 pounds and with a 38-inch vertical leap to go along with an electronic 4.5 forty time, Stone is a player to keep an eye on over the next couple months as National Letter-of-Intent day approaches (February 6th).
We will continue to keep in contact with Stone in the coming weeks and will update news as it breaks with him.