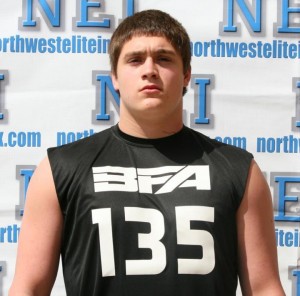 Monday was a big day for two of the state's top junior athletes, as Henry Mondeaux (6-5 245 Jr. TE/LB) got in the mix with his teammate Joey Alfieri receiving an offer from Oregon St. Mondeaux is ranked our #1 TE state wide and our #2 DE/OLB. He is extremely versatile for a big man displaying unique coordination for a kid his size. His overall athletic ability speaks volumes about his potential, and OSU didn't hesitate to make their intentions known.
Speaking with Mondeaux he says, " Its awesome being offered by such a great program, I really think highly of the coaching staff… Its exciting knowing that all of the hard work has finally paid off and its an important accomplishment, but I want to stay focused on my team and winning a title".
Mondeaux is a well spoken kid, that does great in the classroom. He earned 1st team all conference honors at TE and 2nd team honors at LB, and will be a 3 year starter for one the top programs in the northwest. There are a host of schools within the Pac 12, and beyond that we are hearing from that have Henry high on their recruiting board. OSU did a smart thing and offered a couple of the most high profile kids in the region at a time when their stock is rising quickly.
Jesuit is one of the most respected schools anywhere in the region, and college coaches can usually feel confident that the student athletes that reside there are at the top of their game. Both Mondeaux and Alfieri were standouts on the NEI/ Barton Camp and Combine Tour over the off season, and we can't say enough good things. We wish both student athletes continued success and will update you as additional offers come in.