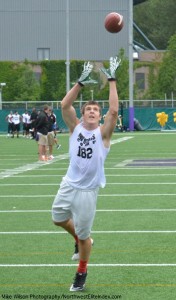 Big news today out of Portland as top ranked Jr. linebacker Joey Alfieri (6-3 220 Jr. LB/FB) of Jesuit received his first full ride scholarship offer from the Oregon State Beavers. The talented athlete is already a two time first team all league LB, and is ranked #1 on our board among backers for the class of 2014.
After speaking with Oregon State over the weekend, we knew it was only a matter of time for Alfieri who's first big time D1 offer came today. He says, "It feels amazing to get my first offer, and hopefully there are many more to come". He continued, "Oregon St is a phenomenal program with an amazing coaching staff and I feel like I would fit in very well with the defense.. I really like the fact that it is so close to home".
Alfieri is one of the state leaders in multiple defensive categories, and came into last weeks game with 108 total tackles and 8 sacks. His Crusaders are one of the hottest teams in the state right now at (9-2) and all he wants is that state title.
As we reported earlier in the week Alfieri has outstanding bloodlines, with his father Phil being an Oregon St Beaver and a New York Jet. He is an even better kid than athlete, and we couldn't be happier for the standout from Jesuit.