Highlight Videos:
Malik Fontleroy-Smith , Davasyia Hagger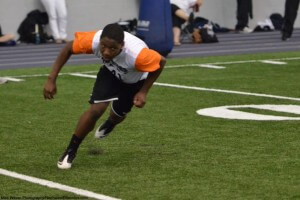 As we wind down the 2012 season the state's of Oregon and Washington have seen a big increase in scholarship offers among its athletes over the last few years. Even with this, there are still a host of talented kids that seem to go under the radar. Two athletes out of Beaverton that are both very deserving and should be in the conversation when it comes to legit prospects, are Malik Fontleroy-Smith (5-11 180 Sr. RB/DB) and Davasyia Hagger (6-5 200 Sr. WR).
Both of these kids had phenomenal years as the Beavers went (6-5), and played better as a team then first expected. Everyone knows about Oregon top ranked LB Evan Colorito (6-4 235 Sr. LB/RB) who earned Conference Defensive Player of the Year honors. He was an absolute game changer, and made teams single handily game plan around him. That said Fontleroy-Smith absolutely went off on both sides of the ball earning unanimous first team all league honors defensively.
Hagger and Fontleroy-Smith both earned 3rd team all league honors on the offensive side of the ball, but that doesn't speak to how recruitable both kids are. Hagger has a D1 body and hauled in 35 receptions for 570 yards and 6 Td's on the year. He did a phenomenal job using unique body control in the state's toughest conference, but has gone widely unnoticed on the recruiting front.
Malik showed up at our Showcase event at UW during the summer, and had one of the best performances of any DB in attendance. He didn't quit there going on lock down mode as a defensive back during the season, and earning unanimous first team honors. His 161 carries for 815 yards and 8 total Td's offensively were crucial to the Beavers success. He says, "We weren't expected to do a lot, but the seniors really stepped it up and developed a friendship and brotherhood". He continued, " Personally I wanted to prove I was one of the best corners in the state, to help my team that lost a lot of secondary players from last year".
Beaverton went (1-4) in conference, but had respectable losses to quality teams within the Metro. The problem was the non conference schedule which was lacking in strength to say the least (Forest Grove, Mckay, N.Salem, Reynolds, S.Eugene-Playoffs). College coaches all say the same thing when reviewing the film which is, "who did they play". It makes sense from a recruiting stand point to take into account the competition levels of opponents, but this is a case where both athletes are still super legit regardless.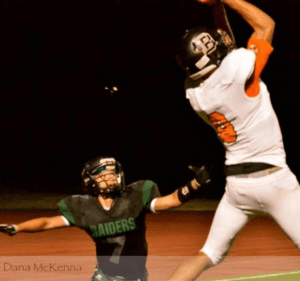 Both are outstanding kids first and foremost, and are deserving of being ranked among the top athletes in Oregon for the 2013 class at their position. I would be the first to admit that I didn't really know what to think of Hagger, as he hadn't played football since his freshman season with most of his focus going to basketball. Watching his video you see that the kid is a baller, and has an upside that won't quit. I was definitely aware of Malik's skills, but he even went somewhat under the radar. Colorito says, " both of them were always physically and mentally prepared, and played a solid leadership role… especially Vas considering he hadn't played since his freshman season".
Both kids are college worthy and should jump up some boards with the impressive 2012 season that they had. Fontleroy-Smith is extremely versatile and can play a host of different positions at the college level, and you can't teach 6-5 and athletic which is what Hagger brings to the table. We will keep you updated on both kids moving forward, as they will be a steal for some school doing their research.