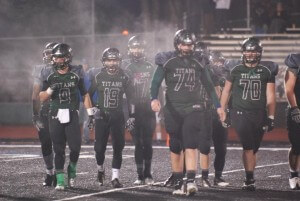 As many of you know we are big fans of the West Salem program, and the way head Coach Shawn Stanley and his guys do things down in the Valley. As much as any coach at the high school level Stanley gets the most out of his guys on and off the field. He puts living life the right way before football, and its funny how well things work out when you get a collective group to buy into the same mind set.
The Titans sit at (10-1) after winning another CVC title , and have rattled off 10 straight victories after a week 1 loss to South Medford. West only returned a few starters from a season ago and weren't supposed to be in this position, but this is where Coach Stanley's system thrives.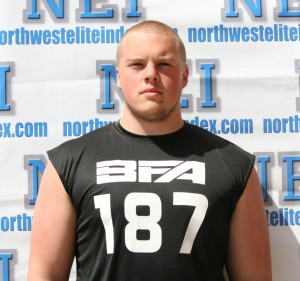 Two athletes that have flown under the radar to an extent are Ambrose Soh and Wiliam Vansmoorenburg (6-4 285 Sr. OL/DL). Early in the year Coach Stanley said, "watch out for Ambrose he is going to break out one of these weeks and not look back". He couldn't have been more accurate.
Just last week in round two of the playoffs Soh went off against Aloha accounting for 6 Tds and 193 yards, out rushing one of the nation's top backs in Thomas Tyner. West Salem got the upset win, and will now play the defending state champion Lake Oswego Lakers in the state quarterfinals. Line coach Mark Walsh says, " Ambrose transferred to West at the beginning of his junior year, and he has really picked up momentum as the season has gone along. Walsh continued, " He has made some plays in big time moments this year, and has really bought into Coach Stanley's program".
Walsh was one of the top players in the state out of Roseburg back in the day when they were a dominant force. He went on to play for the Oregon St Beavers, and is just one of many standout coaches on the Titans staff.
Vansmoorenburg made the transfer from 3A Blanchet over the off season, and has made a huge impact alongside big time D1 recruit Matt Sommer (6-5 300 Sr. DL/OL). We first saw Will on the camp and combine tour in May where he made a name for himself. He has legit size and the motor necessary to play at the next level. He's a great kid that has been one the best players in the Central Valley Conference.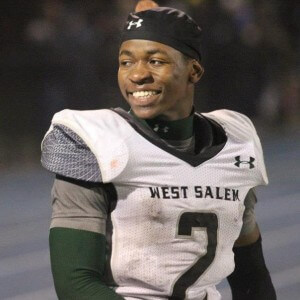 Coach Walsh says, " Will moves people on both sides of the ball and brings a lot of attitude on every play.. Anytime you have a guy that can play with the passion that Will does at the line of scrimmage you know you have a chance." This coming from a former D1 guy that has gone against the best, so all the signs point to Vansmoorenburg being one of the most underrated line prospects in the northwest.
West Salem has a monumental task ahead taking on a Lake Oswego team that has won their last 25 games, and finished the #14 team in the country last year. They gave the Lakers all they could handle last season, and just showed that they don't fear anybody after a 59-46 win at Aloha.
In closing you just can't say enough about the class of the kids on the West roster. They feature Oregon top sophomore QB Cade Smith (6-1 185), who is a born leader and gives them a chance in every game. Before doing this article NW top sophomore WR Keegan Hlad (6-4 175) contacted me, not to talk about his accomplishments, but to reach out for Ambrose who everyone felt was going largely unnoticed. Its this type of unselfish attitude that keeps Coach Stanley's guys at the top of the conference every year. Black turf and all, its a great place to play.