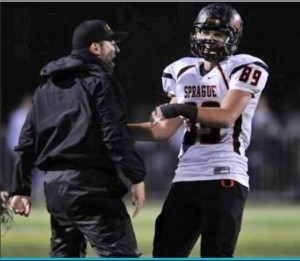 Last week I got a chance to do the broadcast of the Sprague/Tualatin game which turned out to be a defensive showcase. The Player of the night for Sprague was a kid that Quarterbacks have seen a lot of in the backfield this year, in Zach Sweet (6-0 215 Sr. DE/TE). He's an undersized D lineman that has been dominant for most of the 2012 season and is a state leader in sacks at the 6a level (15). His combination of strength and speed have allowed him to out maneuver bigger lineman trying to block him.
Sweet is loved by his teammates as 1st team all league LB Austin Wilson says, " good luck blocking Sweet, the kids a beast and just comes off the end really hard". 15 sacks in a season is a pretty ridiculous feat and the Oly's aren't done. They sit at (10-1) and will go toe to toe with the mighty Jesuit Crusaders (9-2) in the state quarterfinals this week. I was one of very few people to pick Sprague to beat Tualatin last week due to kids like Zach. You can't teach heart and he's got a lot of it.
Sweet says, "Its all due to our amazing coaching staff, specifically Coach Tomlin… I don't think there is a better coach out there, as he spends so much time game planning with the Tualatin game being a perfect example of that". He continued, "Last week we all did our jobs allowing us to have the success we did, personally I think I play on the best team in the state and I owe everything to my teammates".
One personal goal that Sweet had set out for himself was to total 15 sacks on the season. He achieved this in the win over Tualatin where Sprague brought an impressive crowd down from Salem to celebrate the 10-0 win. Sweet even got in the mix offensively scoring on a 22 yard TD reception to seal the victory. The emphatic celebration, followed by multiple sacks from his D end spot wrapped up the night, as he managed to "flex" on the Oly faithful summing up the dominating performance by the D.
There are a lot of kids like Zach that have outstanding high school careers, with magical senior seasons but just don't get recruited. He doesn't have ideal size for a D end but he does have the skills to play at the next level. Sweet's a kid that colleges are becoming more and more aware of, and will be someone that we will hear a lot about moving forward.