Highlight Videos:
Sophomore Season , 2012 Spring Football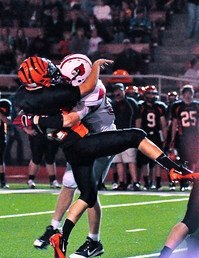 At a practice just two days before the start of his junior season, Brett Carter (6-3 200) caught a seemingly harmless TE screen and began to make his way up field. What happened next would change the course of an offseason of hard
"It's a screen play where I pretend like I am cut blocking a guy to get the defense to forget about me," Carter said. "I caught the ball and ran 7-8 yards down field. When I was preparing to take the hit a guy got blocked into my plant leg."
The result of that block was a compound fracture of both his Tibia and Fibula in his left leg. With a recovery time of 10-12 weeks, it cost Carter the entire 2012 football season as well as the start of the basketball.
The injury was so devastating the crack of the bones echoed as far as a few fields away. Carter said, "The girls soccer team heard it as well as some people all the way over by the gymnasium."
This past offseason Carter put in a lot of time working on football and basketball. He did very well in a few summer league basketball and Franklin Pierce coach Deon Moyd visited Carter not long after the injury. "He told me not to rush it," Carter said. "He wants me to get healed up and be ready for the playoffs".
The rehab process has been slow, and watching his Cardinal teammates was tough. "I would say I am at about 60% right now". Carter continues, "I am working on getting my range of motion back, but as of yet I still can't run."
Missing the 2012 season hasn't stopped schools from coming after the hard nosed LB and when our Jr rankings came out, Carter found himself listed as the #6 player at his position. Teams recruiting him all like him on the defensive side of the ball. Carter has the frame to put on a lot of weight and play the DE position, but right now looks like an OLB.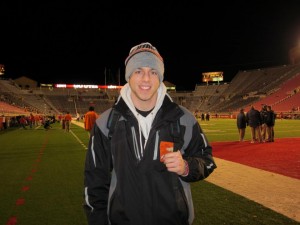 Two weekends in a row Carter found himself on a college campus. November 10th he was a guest of the Washington State Cougars as they hosted the UCLA Bruins at Martin Stadium in Pullman. The following weekend Carter and his family hopped on a plane to Salt Lake City where the Utah Utes welcomed Carter, and a host of other recruits as they took on the Arizona Wildcats.
Pullman and Washington State was fun for Carter, "I really enjoyed the trip and meeting coach Jeff Choate was cool". He continued, "They let us come out of the tunnel before the team and we got to sit by the student section."
In speaking of the Utah trip Carter said, "Salt Lake City had a big town feel, but the campus was on its own." He continues, "The facilities at Utah were really impressive and the M.U.S.S. (Mighty Utah Student Section) was really cool."
While in Utah, Carter attended a Runnin' Utes basketball game against Sacramento State and met up with a few high profile national recruits. "I got to meet and talk with Dalton Schultz from Bingham High School in Utah. He is one of the best TEs in the country."
Carter is enjoying the recruiting process for what it is and has no expectations. He knows that with hard work, his dreams of playing big time college football can be a reality. With the body and football makeup he surely has some of the right tools needed to make that dream a reality.
Utah is a school that knows the northwest is very talented football wise. In June coach Grant Duff was present at the NW Stars Camp at the University of Washington looking at any and all of the great athletes attending.
2012 NEI College Campus Tour – University of Utah