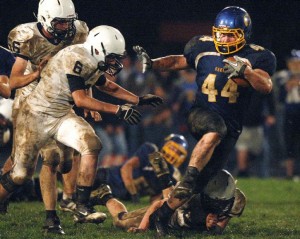 A kid we have gotten to know well over the last couple of seasons is David Henry (6-0 230 Sr. RB/LB) of Oakland, Oregon. He has dominated the State for the better part of two years at the 2a classification level. For the second year in a row he ranks in the Top 5 among the nation's leaders in tackles. Henry has accumulated 214 tackles (Max Preps) this season averaging 17.8 per contest, which is good for 4th overall nation wide.
He is the leader, and 2a state player of the year favorite for the small school just outside of Roseburg. The Oakers are (10-2) and will play in next weeks 2a State Final against traditional power Portland Christian.
Henry had 243 tackles through 12 games last season, averaging 20.3 a game as Oakland finished (11-1). His anticipation from the linebacker spot is incredible, and his improvement from last season to this year has been noticed on the collegiate level. The Oakers pitched 5 shutouts in 9 regular season games, to put into perspective how dominant the defense has been. He only played a half in a host of ball games this year, making his numbers that much more crazy.
David has run for 38 Tds and 2400+ yards in the last two seasons, so he is far from just a defensive player. Its rare to get a kid with this type of ability at the small school level but Oakland is cherishing the time he has left. David says, " Its been great, we faced adversity early with a couple losses to Scio and Coquille, but bounced back and have been getting better everyday". He continued, " This week of practice will be intense as we have to get mentally ready for the game and be prepared to play football".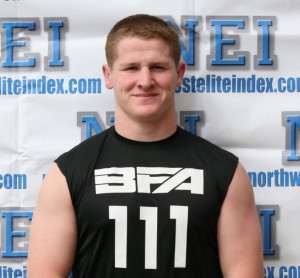 David has a D2 offer from South Dakota School of Mines and Tech, and has been courted by a variety of D1-AA programs. Portland St Linebacker Coach Lester Towns made the trip to Oakland to see David play in person, and nothing like that has ever happened in this small Oregon town before. Oakers Head Coach Ben Lane has done a phenomenal job leading the kids, and working hard to get them opportunities at the next level. Not a lot of small town coaches due that for their athletes, so it was this type of effort that brought David to our attention early.
Henry is a state champion wrestler and also one of the most humble kids you are ever going to come across. His support system is outstanding, with his family being some of the kindest people you will ever meet. Saturday will be a big day for the town of Oakland, as this could be the school's best opportunity ever to grab a state title. Regardless of the outcome, David has dedicated this last year to putting him and his team in this position.
Look for Henry to be the 2a Player of the Year in the State of Oregon, and to have a successful college career playing the game he loves. We will keep you updated on Saturday's battle for the championship.