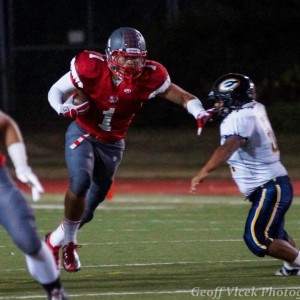 High profile recruit Devante Downs (6-3 235 Jr. RB/LB) of Mountlake Terrace got some good news today from Arizona State in what was his 3rd of what will be many offers to come. Downs is ranked the top running back in Washington, along with Budda Baker for the 2014 class. He is an Eddie George type runner that brings power and grace to the field, and is becoming one of the hottest junior recruits in the country. Downs went for almost 1300 yards and 23 Tds, averaging 7.5 yards per carry on a (5-5) team this past season.
Devante had already been offered by Washington and Utah, before Taylor Barton broke his ASU offer via Facebook. Downs is a kid that we are looking forward to seeing at our elite events, and on the camp and combine tour this spring with the other top athletes from around the region. Speaking with him earlier he had expressed his interest in a host of schools which included the likes of Notre Dame, Stanford and other high end academic institutions.
More then anything Devante is just a good kid and someone that you know will make good decisions off the field as well. " I want to go somewhere where I will get a good education, and set myself up for the future.". Downs is currently taking classes at the local college to get ahead in his studies, and also earning college credit.
When asked about the Arizona St offer he says, " I just saw them get a good win over Arizona and I know its a program on the rise, so Im definitely looking forward to the opportunity of checking out the school". Downs will be a 20+ offer guy before all is said and done, and you can bet he will make the most out of his opportunities.
We wish Devante continued success as he is a man amongst boys at the high school level.