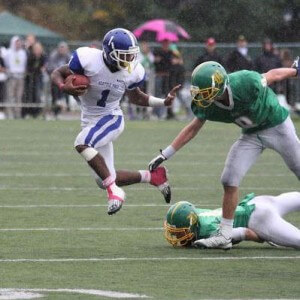 Heading in to the 2012 football season, one of the top two-way athletes in the state of Washington was Seattle Prep's Tere Calloway, but some nagging injuries limited some of his productivity although he still put up some impressive numbers.
Now that his senior season is complete, he's started to turn his focus to recruiting and he recently updated Northwest Elite Index on what some of his plans are as well as which schools are showing him the most interest right now…
"I had a pretty good season, but I only played in six games because of some minor injuries that I was dealing with," Calloway told NEI. "I had 951 yards and 15 touchdowns rushing and 60 tackles, two fumble recoveries and two pass breakups though and we went to the playoffs, so overall it was an decent year, but I think it could have been better if I had been able to stay healthy."
As far as recruiting is concerned, Calloway had offers from schools like Colorado, Idaho, Memphis, Nevada, Portland State, Purdue, San Diego State, SMU, Southern Miss, Syracuse, Temple and Wyoming and he's working to schedule visits right now with one planned for next week.
"I visited Nevada back on October 20th and I'm scheduled to go see Southern Mississippi on December 7th," Calloway said. "Kentucky is also recruiting me, but I'm not sure if I'm going to visit there yet because of the coaching situation. We just need to see how that sorta sorts itself out. The other schools I'm possibly going to visit are Temple, Colorado State and possibly SMU.
"I just need to keep working to figure that stuff out."
In addition to recruiting, Calloway is also looking at representing his country in the Team USA vs. the World Game to be held in January.
We will continue to keep track of Calloway and his progress through the recruiting process in the coming weeks.