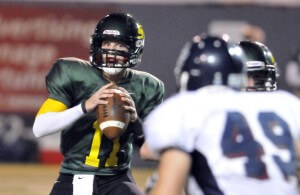 Brett Rypien (6-2 175) of Shadle Park has picked up his first offer today when the Washington State Cougars came calling.
Rypien told NEI, "Coach Stanfield contacted me wanting to talk. When I got done with basketball I called him and he told me that Washington State had offered."
Brett is a very humble kid and was surprised by the offer. "I am kind of shocked right now, I didn't think it would come this early," said Rypien. "I like the discipline coach Leach has instilled in the program."
This season was huge for Rypien as he broke multiple records including three times bearking the Greater Spokane Leagues Single Game passing yards mark, eventually settling on 577 yards. That mark was previously held by current WSU QB Connor Halliday.
Most of the records that Rypien broke were that of either Halliday or his Uncle Mark Rypien, also of WSU and NFL fame. Rypien finished the season with 3,179 yards passing which was 924 yards above the previous mark set in 2009 by Halliday while at Ferris.
Brett is still chasing his uncle Mark's career passing total of 4,965 and should have no problem passing that by the end of September of next season. With 2 seasons still left to play, Rypien should not only break, but absolutely shatter that record.
You can bet this is the first of many offers for Rypien as he will return all GSL WRs Nick Kiourkas, Tanner Pauly and Skyler Kelley next season. The Highlands should be one of the favorites to win the GSL 3A and make a return trip to the playoffs.