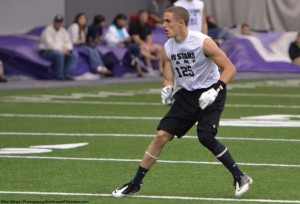 Just coming in tonight is news that Mason Stone (ATH, 6-0 175) of Mountlake Terrace has been offered by the University of Idaho.
Speaking to NEI he said, "Coach Tory Hunter stopped by the school to talk to me and we sat down for about 45 minutes." Stone continues, "he explained how they were going through some coaching changes within their program, but they still wanted to extend an offer."
This offer is long overdue as Mason is an incredibly talented kid that can play a variety of positions. "It feels good that all of my hard work is paying off and I keep taking steps towards accomplishing my goals and dreams". He continued, "I was just talking with my guy (Myles Jack) about how Ive been feeling down about not having any offers yet, and he told me to just be patient and it will come… Literally just a few days later it did."
This season Stone was a 1st team all Wesco selection at DB after finishing with 55 tackles and 4 INTs. As a Jr Stone had with 90 tackles and 4 INTs which garnered a 2nd team all league selection.
Stone was a rare three year starter for Mountlake Terrace. His Sophomore season he intercepted 6 passes and was considered 2nd team all league by Wesco coaches.
This is an offer that Stone can pair with a preferred walk-on spot he received a few weeks ago from the University of Washington. We are big fans of Mason here at NEI and expect him to have more offers before signing day in February.