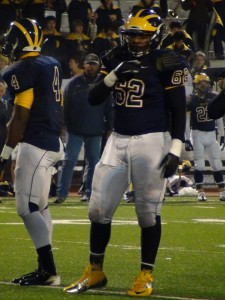 Bellevue D lineman Marcus Griffin (6-3 285 Jr. DL) is big time and he just took the 2012 season and exploited that. We knew he was talented coming in, but he dominated up front all year and left no doubt that he was the top junior lineman in the state of Washington.
The Real MG, as he is known via Twitter, is a kid with personality for days and is someone that the team rallies around. Griffin's abilities speak for themselves, but its his drive and work ethic that separate him from the other elite kids. Just a few days before the state title game and Griffin was already thinking about the off season.
"First and foremost we want to win the state championship, but I plan on being in the weight room the week after getting ready". You can tell that Marcus is hungry to get better, and is smart how he goes about it. Marcus says, "Darien (Freeman) helped me a lot at the beginning of the year and I learned so much from him, our defense trusts in one another and we all keep each other accountable". Most of us at NEI agree that Freeman (5-11 290 Sr. C/DT) has unquestioned D1 ability, but hasn't been offered do to his height.
Griffin will be an early offer athlete and someone that heads into next season with multiple options. This Bellevue defense could very well be the best 11 to ever play together within the region. They are that ridiculous.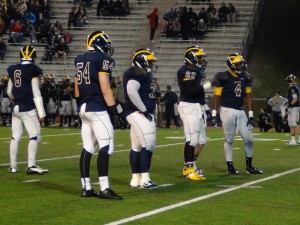 "Shane Bowman is the real deal and is a good friend, but he 's been somewhat overlooked due to all of the talent we have on the field". Bowman (6-4 225 Jr. DE) will actually be our #2 lineman state wide along with Mason Johnson (6-3 300 Jr. DL) of Kentlake. He is another kid that ran circles around O lineman all year, showing crazy speed and strength off the end.
Bellevue is a factory that just produces year in and year out, because they do things the right way. Its not everyday that the northwest produces the #2 team in the country, but Marcus is a prime example of why they are so good. Its all business and anything but being the best is unacceptable.
Griffin's a well spoken kid with a 3.0 GPA, and an extremely bright future. Props to Head Coach Butch Goncharoff, and the entire Bellevue community on instilling a program that everyone can be proud of. Its a great group of kids that just happen to potentially be the best team in America.