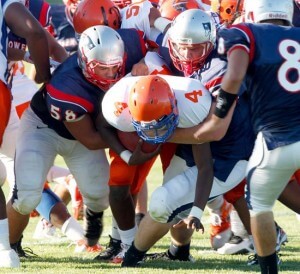 One of the big surprises so far this season is the fact that Rainier Beach WR KeiWuan Miller doesn't have an offer yet. The explosive athlete has been hearing from several schools and has that killer instinct that college coaches are looking for, but as of yet, no one has pulled the trigger.
"The schools I am hearing from the most right now are UCLA, Idaho, Purdue, Eastern Washington, Oregon State, Oregon, Utah and Wyoming," Miller told Northwest Elite Index recently. "None of them have offered me yet, but they are all interested in what I can do. Some of those schools have new staffs coming in too, so right now I'm just being patient.
"Almost all of the schools recruiting me are looking at me as a wide receiver, but Idaho likes me as a DB, so I have a couple of options I could end up playing at if the right offer comes down."
As a senior for the Vikings this past season, Miller put up some solid numbers — 1,600 total yards including 900 yards on 30 receptions and 300 yards rushing to go along with 23 total scores — and he didn't just get it done on the football field either as he carries a 3.5 GPA as well. His efforts on the gridiron earned him Metro League Offensive Player of the Year honors as well as Special Teams Player of the Year honors for his efforts as a returner.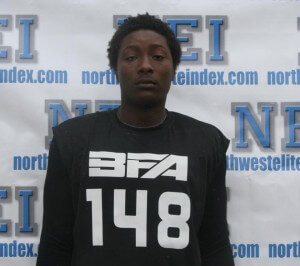 "Keiwuan was a multiple threat for us. He can do everything for you and he's so explosive. He had seven returns for scores," Rainier Beach head coach Mark Haley noted. "He had 4 kickoff returns and 3 punt returns — and nobody could stop him no matter where we put him. The coaches in this conference thought really highly of him and told me how much respect they had for his talents."
"I don't like losing at anything I do," Miller said. "That just drives me to play my best and give 100% on everything I am doing. Whether it's playing football or basketball or working on school stuff or volunteering somewhere, if I am there, I give it my all.
"I will do anything to help my team win. I played all over for us. I played receiver and DB, but I would have played on the line or gotten us water if it meant we could win."
At 6'1″ and 195 pounds with a legitimate 4.5 forty time and a 36″ vertical, Miller is a definitely a real sleeper that schools should take a look at. He runs well with the ball in his hands and he has great hands, improved by his abilities on the basketball court as well.
We will continue to keep tabs on Miller over the next couple of months as recruiting is sure to pick up for him and we will report on news as it breaks.