Highlights:
Tavin Montgomery , Thomas Toki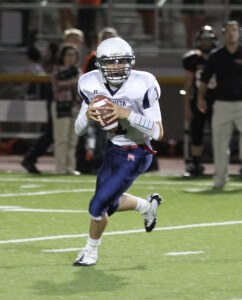 Its pretty rare that we report on HS freshman but this is definitely a unique case. Juanita QB Tavin Montgomery (6-0 160 ) took over the starting duties at Quarterback after the fourth game of the season and never looked back. The Rebels went (6-4) losing to 3A powers Bellevue and Mt Si, before a 1 point loss to Kelso in the state playoffs to end the season.
Montgomery earned all league honors at QB after starting the season at defensive back. It was very apparent early that Montgomery was going to be a special talent, as any kid coming in and playing right away at such a young age is typically super legit. We are big advocates of Head Coach Shaun Tarontola and his Rebel program, and he will have a lot to work with in the coming years.
Tavin is surrounded by two of the state's top young lineman in sophomore Thomas Toki (6-1 295) and Freshman Paul Finau (6-2 300). Juanita also has two very talented line backers in Pierce Belleman (5-11 170) and Vere Waqaituinayau (5-11 205). The Rebels do graduate three NEI favorites in Kendrick Murphy (5-11 160 ATH), Harley French (6-1 205 LB), and Trayon McNairy (6-1 205 LB), but Montgomery feels the future is extremely bright.
"I feel like we have a bunch of good athletes coming up and a line that can be dominant, so we are all excited about our potential moving forward". He continued, " my line this year gave me all the time in the world and made it much easier for me to transition to Varsity speed".
Tavin knows he's talented, but remains very humble and appreciative of his family, coaches, and teammates.
"We improved a lot this year and I think we can continue to get better… I learned a lot from guys like Kendrick Murphy, and personally I want us to be a playoff team every year and help to put us in a position to win a state title".
Montgomery threw double digit TD passes and only 3 INT's on the season, and projects as Potentially the top QB in the state of Washington for the 2016 class. He added, " ultimately my goals include keeping my GPA high, and becoming a D1 quarterback". Its hard to gauge most athletes from such a young age, but this is an exception to the rule. Watch Montgomery's highlights and you will see a pretty freaky freshman that can just flat out ball.
We look forward to having Tavin at our elite events in the winter, with the other top players from around the region. He is considered one of the top QB's on the west coast, and someone Taylor Barton is definitely excited to work with. Congrats to Tavin and his Juanita Rebels on their success, they will be a team to be reckoned with in Washington in the coming years.