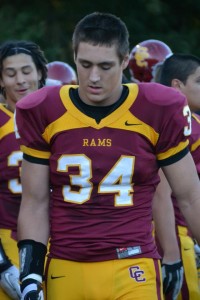 Two of the top athletes in the State of Oregon for the 2014 class, Ryan Nall (6-3 215 Jr. RB/LB) and Jake Pruit (6-3 215 Jr. RB/LB), each had monster 2012 seasons and more then look the part. Both kids have legit size and speed, and have seen their stock rise immensely over the last few months.
Nall out of Central Catholic most likely projects as a linebacker, but is super athletic and is considered one of the top Junior RB's in Oregon. He is the brother of former Mt Hood Conference Player of the Year Jacob Nall who is currently playing at Portland St. Ryan's ability to run and lay hat on opposing players was very evident over the season, as the kid isn't afraid to come up and smack you.
Speaking earlier in the year Nall says, "I just want to do whatever necessary to help my team whether that's on offense or defense". Northwest top safety Dallin Leavitt says, " Ryan's super aggressive and can play 4 or 5 different positions on the field… He has a D1 body and is kind of like a smaller version of Colt Lyerla".
His natural position is most likely at backer, but Head Coach Steve Pyne valued his size and speed and used him at the running back position as the season progressed. Regardless of where he ends up he's a legit D1 talent, and someone that should be expected to do big things over the next year.
Someone very similar to Nall is the very versatile Jake Pruit who also blew up in 2012, and made a name for himself in the toughest conference in Oregon. Pruit is considered maybe the top lacrosse athlete in the region for his class, and will be a D1 scholarship athlete on that front. That said, he could legitimately do the same thing on the football field if that's where his focused was placed.
Pruit earned 2nd team all league honors, and teamed with Devin Martinez to form maybe the top junior RB tandem in the northwest. They rank as two of the top 5 backs in Oregon for the junior class, and together they make Southridge a legit contender next season.
Both Nall and Pruit are two kids that could play on either side of the ball at the next level, and could put themselves in a very good position with a productive off season. We hope to see both of these backs at our elite events with all of the top athletes from around the region, as they have unlimited potential and the size to play at the highest collegiate level.