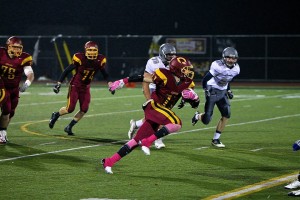 One player we at Northwest Elite Index wanted to get a good long look at during the 2012 football season was Capital (Olympia, Wa.) RB Kai Van Sickle. The senior tailback had put up solid numbers as a junior and we wanted to see if the productivity continued to match the hype. It did that and then some…
All Van Sickle did was go out and put up over 2,700 yards and 40 touchdowns while helping to lead Capital to an 11-3 record and a berth in the state semi-finals.
"I think, all-in-all, we had a great season even though we didn't make it to our ultimate goal of a championship," Van Sickle told NEI recently. "I think we came together as a team and we were like brothers. We were there for each other and we played our hearts out against some really good competition.
"I'm proud of what we were able to do."
On the recruiting front, things have been a little slow for Van Sickle, especially considering that he has rushed for over 4,000 yards and nearly 70 touchdowns the past two years.
"I was missing a math class, so I wasn't eligible for a D-1 scholarship," Van Sickle, who is a very good student, noted. "I figured it out though, probably about a month or two ago and I'm taking the class now so that I can get eligible. I was eligible for D-2, but the D-1 schools that were looking at me said I needed to get that class so that they could offer me."
Included in that group looking at him are Portland State and Central Washington.
"Neither of them have offered, but they both like me a lot and they are looking at me," Van Sickle said. "Once I get this class done and out of the way, which will probably be here in the next two or three weeks, then I am hoping some offers come in and some more schools start to look at me and like what they see."
Van Sickle is a solid 6'0, 190 pounds and, while he doesn't have legitimate break-away speed, he never seems to get caught from behind and he's shows great vision and has a knack for always getting extra yards after contact. He is a special player and one to keep an eye on over the next six weeks as we get closer to National Letter-of-Intent Day as he is worthy of offers from the highest level of competition.
We will have more on Van Sickle through the rest of the recruiting process and will update news on him as it happens.