Player Highlight Videos:
Hayden Maliska , Josh Cahill , Ryan Mets , Treshon Long , Alex Rice , Braden Rushton , Ruben Ramirez , Grant Williams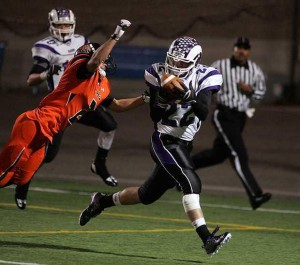 Over the last few seasons North Thurston is a program that has been on the rise in the State of Washington. Highly respected head coach Rocky Patchin has lead the Rams to an (18-5) overall record in their last two seasons, as he has been at the school for two decades plus.
They graduate a solid group of seniors from this years (9-3) team, but Hayden Maliska and a host of other talented underclassmen return. Maliska has been a 1st team all league kid for the last two seasons, and will be a conference Defensive Player of the Year candidate in 2013. He has accumulated 210+ tackles over the last two seasons, and will be the featured back behind one of the most intriguing offensive lines in the state.
Maliska will run behind Treshon Long (6-2 320 Jr. C), Alex Rice (6-7 315 Jr. OL), and Grant Williams (6-1 230 OL/DL) , three kids that have a huge upside. Long is large, and a very athletic center that moves mountains, and Rice is a kid that could climb recruiting boards quickly as he just started playing football two years ago. Hayden says, " Alex just started playing as a sophomore, but has really gotten comfortable on the line and has done very well".
Williams is a kid that we will be adding two our sophomore rankings boards. He isn't huge, but very fast and strong and will be a big asset moving forward.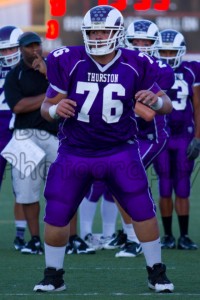 North Thurston will return one of the state's top Junior TE's in Josh Cahill (6-3 210 Jr. TE/DE), as he is a kid that can flat out run after the catch. He's got the size and speed to play at the next level, so it will be interesting to see what he can do this off season. Maliska's next door neighbor just happens to bet the QB, who will be getting Cahill the ball in Ryan Mets.
Mets is an outstanding overall athlete who looks like a D1 baseball kid. Its always nice to have your Quarterback be a versatile overall talent. Winning the last two seasons has been good for the program as a whole, as the Rams made the jump from 2A to 3A.
Sophomore Braden Rushton (WR-DB) is a kid we will hear a lot about moving forward, and junior defensive standouts Ruben Ramirez (5-9 200), and lineman Jake Grantham (6-0 200 OL/DL) are two other athletes that will play a prominent role in 2013.
Maliska says, "everyone likes our coaches and we all work well together…We lose a couple talented DB's and D end's, but have some very promising younger kids coming up that we are excited about". Maliska's brother is just finishing up a D1 football career at Georgetown, while his other brother plays college baseball. Athletics and academics go hand and hand within the family as Hayden has received the "Student Athlete Award" the last two seasons, maintaining honor roll stratus with a 3.55
Expect to see North Thurston back in the mix next season as they have some very talented kids returning. The growth of the community and the football program has been very positive, and everyone is feeding off the momentum that has been created. Congrats to Coach Raskin and his staff on producing some outstanding student athletes. The Rams look like a team that is only going to get better in the years to come.