Matt Sommer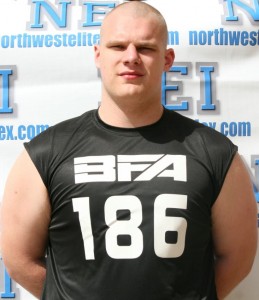 One of the top lineman in the NW, Matt Sommer of West Salem (6-5 300 Sr. OL/DL) added Idaho to his list of offers, giving him 5 quality D1's that he will be deciding between. The Titans big man is an NEI favorite and now sports offers from Eastern Washington, Northern Colorado, Portland State, and Montana.
The Vandals recently dismissed head coach Robb Akey and are heading in a different direction, while athletes like Sommer would be huge for the program as he is a quality character kid first and foremost. Sommer was a kid that we got to know well over the last few seasons, as most people are aware that we are big fans of West Salem and Head Coach Shawn Stanley's crew.
One of the region's top line coaches Mark Walsh said of Sommer earlier in the year, " He's very talented and its just tough for a lot of people to handle him due to his size and athleticism".
Sommer expects to take his visits and make a decision based on a variety of factors. We had Matt listed as a 1st team all state 6A kid at NEI, and we feel like he could add some additional offers in the next few weeks. We can't say enough good things about Matt as a person, and will continue to keep you updated on his recruiting.
Ryan Brown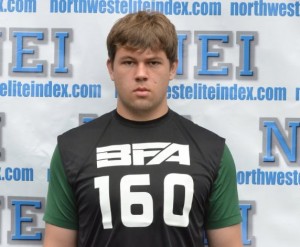 In one of the best stories of 2012 Jesuit lineman Ryan Brown (6-6 265 Sr. OL) received his first D1 offer from Portland State, and could potentially add UNLV in the coming week. Brown dealt with injuries for part of his HS career, and didn't even start for part of his senior year.
With that said he put in one of the most outstanding off season's we have seen in some time. There wasn't an event or workout that he missed, doing everything in his power to improve his game. This and a very impressive 2012 campaign landed him an offer from the Vikings, and others schools have started to take notice.
Brown was part of an offensive line that featured Oregon Commit- Doug Brenner (6-3 280 Sr. C/DL), Washington Commit- Andrew Kirkland (6-5 300 Sr. OL), and Harvard Commit- Max Rich (6-7 315 Sr. OL).
Ryan's upside is through the roof as he is pushing 6-7, and just got better and better as the year progressed. His film improved immensely making him a viable D1 recruit, and someone that's just an overall good kid. Brown's got an awesome support system at home, and comes from a football family so love of the game has always been there.
We wish Brown continued success and will keep everyone updated on another D1 lineman from Jesuit