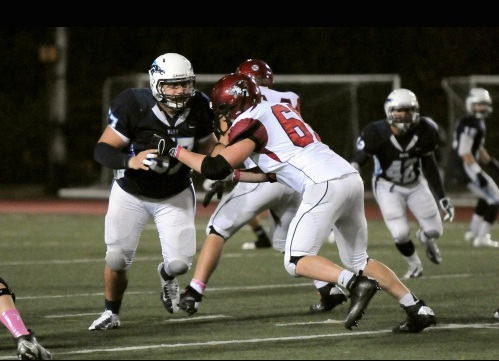 It was week two of the 2012 football season and I was standing at Pop Keeney Stadium in Bothell. Meadowdale had traveled to play Inglemoor and did not supply the home team with rosters for their gameday program. For the first three quarters I was writing down numbers of players I liked. After being emailed a roster, I noticed Jojo Alkhedairy was all over my sheet.
In this business anytime an underclassman stands out you are instantly intrigued. Play in and play out, Alkhedairy dominated the Inglemoor offensive line. He was in the backfield breaking up runs, sniffing out screens and pressuring the QB all night.
At 6-1 and 275 pounds, Alkhedairy has the size to play at the next level. Where he really stands out is his overall athleticism and versatility. "I not only played on the defensive line, but also fullback and right tackle when needed," he said.
With that size typically comes a lot of power and Alkhedairy definitely fits that persona. He benches 345 and squats well over 450 pounds. When I decided to write this article he was actually responding from the gym.
2012 was a good year for Meadowdale. Injuries hurt the Mavericks down the stretch and into the playoffs, but they finished with a 7-3 record, after starting the season 6-0. For his work on the defensive line, Alkhedairy was one of 5 Mavericks to be named first team All-Wesco 3A South. Jeremy Gomez (DL), Michael Cummings (LB), Josiah Evans (DB) and Morgan Masanda (DB) being the others.
This coming season Alkhedairy will become a three year starter. As a sophomore he started every game for one of the best defenses in the state. Teaming with senior Jeremy Gomez (6-3 280) has been something out of a horror movie for opposing offensive lines. This year the two were both named to the Everett Herald's All Area team, Gomez 1st team, Alkhedairy 2nd.
Alkhedairy took on a leadership role this season and was eventually honored as a team captain. Knowing that academics are important, he plans on focusing more this offseason to improve on his current 3.0 GPA.
When posted, you will see Alkhedairy on our Jr Rankings on the DL. With an offseason of camps and combines I fully expect him to climb those rankings and look forward to following him along the way.