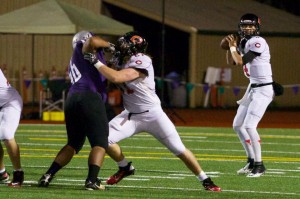 If you are looking for one of the top linemen in the state of Washington for the 2014 recruiting class, look no further than Camas' Drew Clarkson who, at 6'4″, 265 pounds, earned All-Greater St. Helens League, All-Region and All-State honors after a very good junior campaign this season.
"I played left tackle for us and love it," Clarkson told Northwest Elite Index. "It was a great year for us and I loved being part of it. We wound up a little short of where we wanted to be, but I felt we really came together as a team."
With his outstanding size and athleticism, Clarkson held down the left tackle spot with ease, but he admits he will probably need to move inside at the next level.
"I'm not sure if I'm going to grow much more, so if that's the case then I will probably get looked at to move inside," Clarkson noted. "I'd love to keep playing left tackle, but I've got no problems moving inside if that is my best spot in college. I don't really care. I just want to play."
Two things that Clarkson improved upon after a good sophomore season was his stamina and his strength.
"During the offseason I played rugby and basketball those really helped get me in better shape," Clarkson said. "My sophomore season I wasn't really in the greatest shape, so I wanted to be in much better shape this year. I also worked a lot on my strength and lifted a lot and that really improved too."
On the recruiting front, Clarkson is still waiting to hear from schools and does plan to hit the camp circuit this spring and summer.
"Honestly I didn't know much about that stuff so I didn't really get out there last year," Clarkson said. "I know I need to get out and get to some, so I'll need to sit down and figure out where I should be going and make some decisions on that this winter."
Clarkson has and outstanding work-ethic, he has a great motor and he runs well. With his flowing locks, an ode to his friend and mentor Odin Coe who is a redshirt freshman at Montana State University, Clarkson is hard to miss and it will be interesting to see his progress over the offseason as well as how her performs in camps against top competition.
We will continue to keep track of Clarkson over the coming weeks and months and will update news as it happens with him.