Highlight Videos:
Jayden Croft , Korye Trejo , Gabe Gleizes , Christian Cummings , Nick Foerstel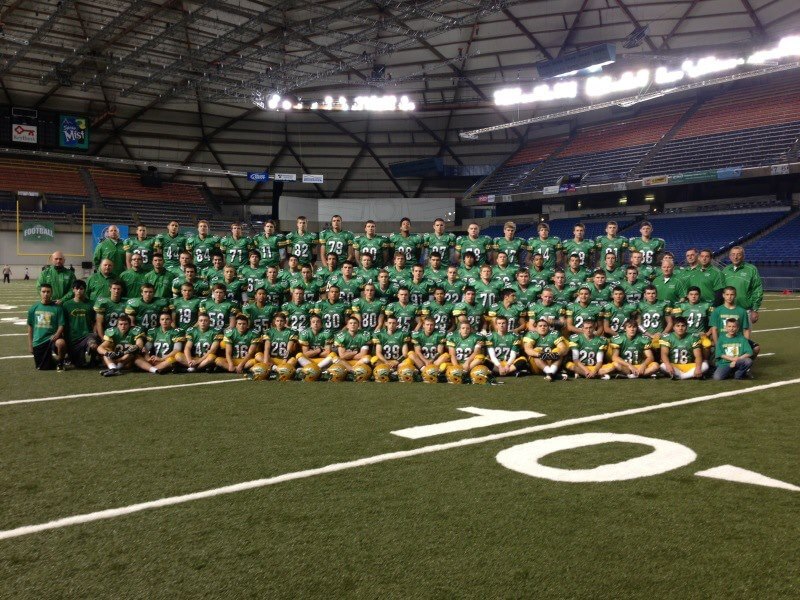 Anyone that pays attention to high school football in the northwest can tell you that Tumwater has traditionally always been one of the top teams in the State of Washington. They have gone (67-14) overall and (37-2) in conference since 2006, and Head Coach Sid Otton is a legend to say the least in his 39th season.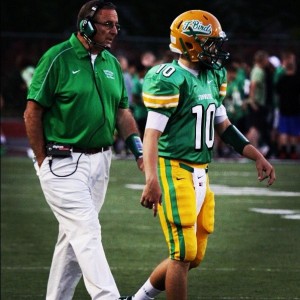 Junior quarterback Jayden Croft (6-1 175 Jr.) helped lead the T Birds back to the state title game a few weeks ago against a very talented Lynden squad where they were upended. Croft is the grandson of Sid Otton and the nephew of former USC QB, Rose Bowl winner, and Heisman contender Brad Otton.
His dad played basketball at San Diego St and professionally overseas, and his mom is the very successful volleyball coach at Tumwater HS. She has two state titles to her credit and an overall record of 205-34. His aunt was an All American swimmer at Utah, and his other uncle played college ball at Weber St. To say athletics are prominent within the family would be accurate…. and then some.
Jayden's been fortunate to have an amazing support system within his family, and has lived on the football field since he could walk. He has been a three sport athlete for his entire life (basketball, baseball) and maintains a 3.98 GPA taking AP classes. Kind of the All American kid.
Tumwater returns a host of talent next season, and will be a favorite for the 2013 state title in Coach Otton's 40th year. Jayden says, "Its been amazing to move up throughout the Tumwater ranks with my guys in our class.. Most of us have been playing together since we were in 1st grade, and Im stoked to finally be the top dogs as seniors next year".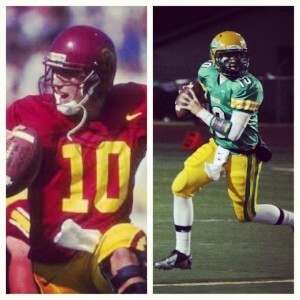 Croft continued, " There are high expectations for next season and the goal is to get all of us in the weight room and to workouts, while holding everyone accountable and being a positive senior leader".
The T Birds are loaded coming back with top backs Christian Cummings (5-10 170 Jr.) and Tyrus Snow (6-0 190 So.) returning, after having solid 2012 campaigns behind Conference Player of the Year Andrew Brown.
1st team all league DE Korye Trejo (6-0 230 Jr.) returns as does opposite D end Nick Forstel (6-3 215 Jr.). Both of these kids will provide an intense pass rush that will require double teams to contain them. Trejo's a walking, talking heart muscle and just a very talented football player. Forstel's a good size kid that comes off the end hard.
Junior DB Gabe Gleizes (5-11 160 Jr.) will be one of the better Defensive Backs's returning in the state, as he is a kid with a high motor and someone not afraid to come up and smack you. Sophomore Trevor Davis (6-2 190 LB) is another kid that will be a big part of the T Bird future, as he is one of the better backers in the state for the 2015 class, earning 2nd team all league honors this past season.
You can find most of Tumwater's top kids on our rankings board as they will be tough for anyone to beat next season. Croft says, " We need to stay humble yet confident each week and can't take any teams lightly…. This past year was a great learning experience for me and we know what it feels like to be part of a successful team, Im looking forward to getting back on the field with my brothers again".
Its great to see communities like Tumwater that embrace their football and athletics in general. Next years group could be one of the best in school history, and we look forward to seeing a bunch of these talented athletes on the Barton Football Camp and Combine tour over the off season.