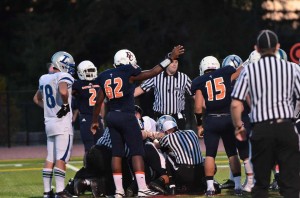 As we head down the home stretch toward Signing Day for the 2013 recruiting class, we start to take a look at some of the top juniors and sophomores who burst on the scene this year.
One that stood out for one of the top teams in the state, was super-sophomore Cody Baker, a 6'4″, 235-pounder with enough size and athleticism to play almost anywhere.
"I played some along the offensive line and I played a lot on the defensive line," Baker told Northwest Elite Index recently. "We had a really talented team and we have a lot of fun playing together. We had a great season and it was something for us to be proud of, but at the same time we're still trying to get better and get that state championship. We didn't get there this year, but I think we have the team and players and coaches to get the job done eventually."
As a sophomore this past season, Baker worked into the rotation along the Crusaders' defensive line and totaled over 40 tackles to go along with six sacks and earned Honorable Mention All-Metro League honors for his efforts.
"I improved a lot from my freshman year to this year and I hope I can make the same jump this year to my junior year," Baker said. "I play baseball (he has an 80-mph fast ball), so in the spring I am dedicated to that, but in the winter, all I do is lift and work on my explosiveness and adding size and strength to my body."
Currently, Baker reports a 260-pound bench and a 350-pound squat, but he hopes to have both of those up significantly after and offseason spent in the weight room.
"I'm lifting a lot, both with my team and individually," Baker noted. "I have goals of getting them over 300 on my bench and over 450 on my squat, so we'll see, but it's more important that I lift correctly and don't hurt myself, so I'll just make slow and steady progress. That's where my head is at right now."
On the recruiting front, because this season was his first as a starter, Baker has yet to hear from any schools, but he'll be hitting the camp circuit this spring and summer to garner some interest.
"I grew up watching USC, Washington State and Washington and I've liked all of them. If I was just choosing one, it would probably be USC because I was born down there and I have a lot of family there," Baker said. "I moved up here in fourth grade, so I've been up here long enough to call myself a (state of) Washington guy and whoever offers me first will have a big advantage.
"I know I will probably have a lot of coaches lookng at me this spring, so I'm not too worried about it right now. More than anything, I'm just worried about getting better every day. That's for me and for my team". Baker continues, "The rest of that stuff will take care of itself and I've had a bunch of teammates who have been through the recruiting process, so they have been sorta mentors for me in that."
Baker is an emerging star in the Evergreen State in the 2015 class. He's big, he's athletic and he loves to get after it. He's got so much raw potential, it won't be surprising to see teams jump on him like they did Chico McClatcher from Federal Way and Austin Joyner who are also a 2015 players that have offers. He's so raw that it might take some coaching staffs a while to extend a full ride, but once the first offer rolls in, Baker is likely to see a flood of them soon thereafter.
We will continue to keep tabs on Baker over the offseason and will update news on him as it happens.