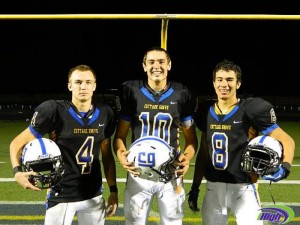 One of Oregon's top QB's for the 2014 class, and a leading candidate for 4A Player of the Year in Oregon next season will be Scotty Hitner (6-3 200 Jr.) of Cottage Grove. Hitner was a state leader in multiple passing categories this past season, and was a kid that we got to see early on during the Barton Football Camp and Combine tour.
Hitner will be traveling to San Antonio for the Army All American Combine in early January, letting him compete against some of the nation's best. He plays at the 4A level in Oregon having his way with most competition, so events such as this will help justify his overall ability regardless of classification level.
Scotty will be a kid we look forward to seeing at our elite events over the off season, after he threw for 3, 255 yards and 35 Tds in 2012. Head Coach Gary Roberts has done an outstanding job at CG, and will have his top QB and two elite Jr. WR's back from this past season. Hitner has the size needed to be looked at as a legit recruit at the college level with a good off season. Taylor Barton had good things to say when seeing Hitner as a sophomore on the Camp and Combine tour, as he is ranked as one of our Top 5 QB's statewide among juniors.
The Lions went (9-3) this past season, losing 55-42 to eventual state champion Baker in what was a season they can be proud of. Junior receivers Oscar Rauda (5-11 170 Jr.) and Brad Bonds (5-7 165 Jr.) were two of Hitner's primary targets, as he did a very good job of spreading the ball around.
Rauda was a state leader in multiple receiving categories catching 61 passes for 1157 yards and 12 Tds. Bonds did much of the same grabbing 66 passes for 913 yards and 9 Tds. Scotty completed 59.7% of his passes on the year and averaged 295.9 yards per game, while also rushing for 15 Tds.
Cottage Grove will be one of the top 4A teams in the state returning and Hitner is looking to make sure they make the most out of his senior season, " We are all going to work extremely hard over the off season and do everything we can to put ourselves in a position to win a championship next year". He continued, " I feel good about some of the younger kids stepping up on defense, and I think we have sufficient weapons back on offense"
CG is the home of one of my All Time favorite HS players in Alex Toureen now at Portland St. I think Toureen is one of the most underrated college football players in the country, and could be a D1-AA All American before he is done . We look forward to seeing Hitner and some of his teammates during the next few months, and can't say enough good things about the kid from Cottage Grove.