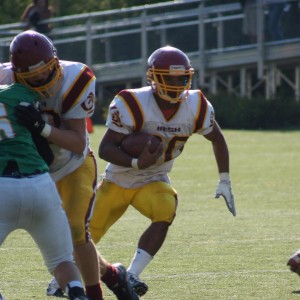 O'Dea is a tradition rich football school and one of the top young athletes in the west, Myles Gaskin (5-10 185 So. RB/SS), will be taking the bulk of the carries over the next few seasons. Gaskin is only a sophomore, but already considered a legit D1 recruit that will have his choice of schools.
Gaskin played varsity ball as a freshman, and had a monster year this season going for over 1000 yards, 15 Tds, and 70+ tackles. He split time with one of the fastest athletes in the country in Tatum Taylor, who has double digit D1 offers and is an outstanding kid. Myles says, "Tatum's been a mentor to me over the last few seasons, and I listen to what he has to say…He's went out of his way and helped me learn the plays, along with the coaches early in the year ".
O'Dea went (8-3) and lost in the 2nd round of the playoffs, but the Irish return a host of talent that includes one of the state's top QB's in Pierre LeDorze (6-2 215 Jr. QB) and D line standout Jarius McDade (6-2 300 Jr. DL).
Add in Jack Flor (6-2 205 Jr. FB/LB), Kaleb Swain (5-8 155 So. ATH/CB), Dylan Ledbetter (6-3 225 So. OL/DL), Davarea Proctor (5-9 185 So. SB/DB), Michael Owes (5-11 165 So. WR/DB), and Gerald Kennedy (5-10 235 Jr. DL) and you have one of the top teams in Washington returning at the 3A level. " My teammates have been great and I'm going to love running behind Dylan Ledbetter for the next few seasons".
Gaskin is a fearless defensive back, that's happy to come up and smack you. His combination of speed and dual threat status, will make him one of the most recruited athletes in the state for the class of 2015. He is currently listed as one of the top sophomore backs in the region along with Austin Joyner and Chico McClatcher.
Myles is also one of the top track athletes in Washington, and was part of the 4 x 100 team last year as a freshman that recorded the fastest time in the state (Tatum Taylor, Kent Mckinney, Jayshawn Jordan).
"I'm going to continue to work on my speed, but I want to get my lifts up and be pushing 300+ on the bench, with a 450+ squat". Gaskin will be doing indoor track for the next few months, and is a kid we are excited to see this off season at our Elite Events. He is one of the top two way threats on the west coast, and will be a household football name before all is said and done.