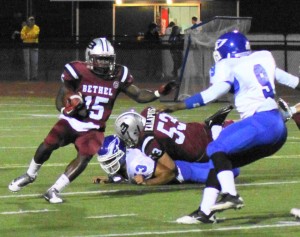 With the ability to play a variety of positions, colleges have differing opinions as to where Bethel's John Thompson (5-9 180) fits, but all agree he is D1 caliber.
Thompson is one of the most versatile athletes in the northwest and played multiple positions during his career. He has been awarded with All-League honors on both sides of the ball, including SPSL DB of the Year as a Jr, and is also one of the best kick returners in the state.
Two schools have already offered Thompson full athletic scholarships, Idaho and Eastern Washington, and a few more have been in touch recently. Most schools see him on the offensive side of the ball, but a few have inquired about his defensively services. When asked if he prefers a position he replied, "I am fine with any. I just want to play college ball."
Watching film on Thompson you will notice he has great speed, 4.45 40-yard, and does a great job at reading him blocks. For his size he is also strong as he bench presses close to 275 pounds and squats just over 500. The leg strength really shows in his ability to run through arm tackles.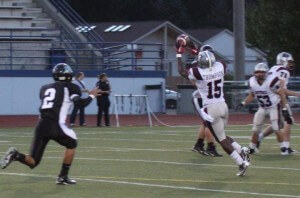 Academics are also something Thompson takes very seriously. "I have a 3.4 accumulative GPA and just took the SAT on December 1st so I am still awaiting those scores". He continued, "My preferred major is something in the Sports Medicine field."
John is somebody we are familiar with at NEI as we have him highly ranked among some very elite DBs in the 2013 graduating class. With his speed and play making ability, Thompson is a shutdown corner. Where he really stands out as a DB is his physicality. He is tough in press coverage and good in run support.
Thompson is equally adept on the offensive side of the ball. This season he was 2nd Team All-SPSL South as a RB and has done plenty of damage in the past from in the Slot. A case could really be made for Thompson to play either position at the next level.
As of right now Thompson is scheduled to take visits to both Idaho and Eastern Washington sometime in January. He has already unofficially visited Idaho. Washington State, UNLV and Navy have all three been in contact also as of late. I briefly spoke with him about his two offers.
—
Eastern Washington: "I've had a couple conversations with the coaches. I know they have a really great football program and the academics I am looking for," he said. "They would like me to come in and play running back."
Idaho: "They have a great campus and really nice facilities. I like the way they are building. They sent me a letter from the new coaches talking about their plans and they see me playing in the Slot". He continued, "They also have a great sports medicine program that I could be a part of."