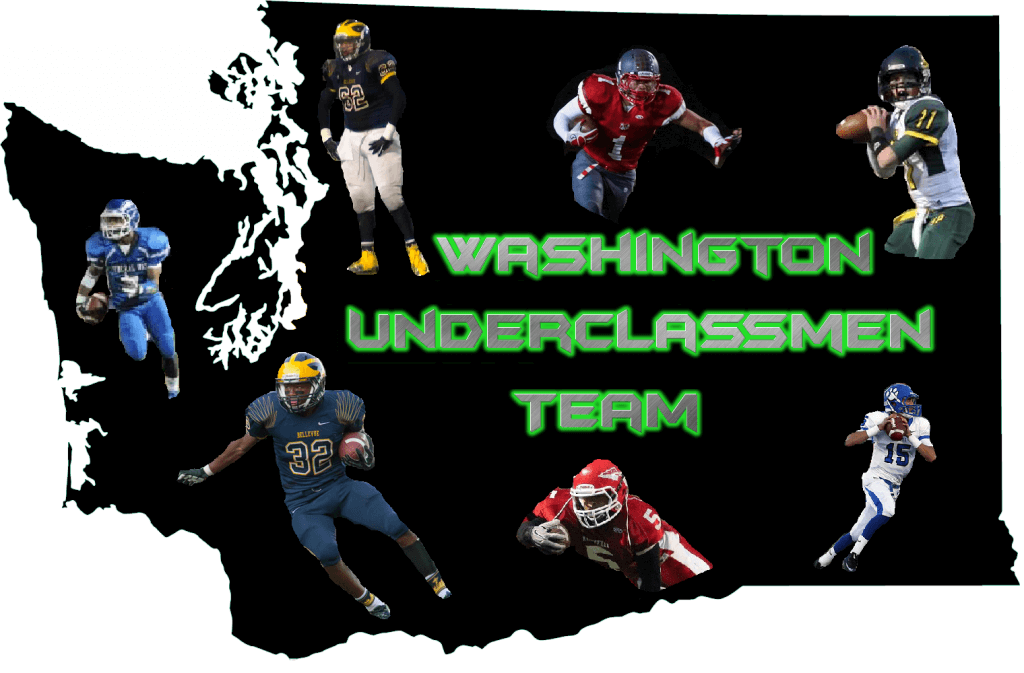 *Any athlete that has received a D1 offer will see the school listed in ()
*If you are a sophomore/freshman on this list then you are most likely ranked high for the 2015/2016 class, and probably got significant Varsity time this season.
*The All-State Underclassmen selections are based on the athletes season, and not their individual college projections.
*We couldn't be more proud of ALL NW athletes and we look forward to seeing everyone over the off season.
Jordan Johnson, Ryland Spencer & NEI Team
1st Team

QB
Brett Rypien
6′ 2
175
So
Shadle Park
QB
Nick Mitchell
6′ 2
175
Jr
Mount Si
RB
Budda Baker
5′ 11
180
Jr
Bellevue
(Arizona, Arizona State, Boise State, Colorado, Notre Dame, Oregon State, Purdue, UCLA, Utah, Washington, Washington State)
RB
Devante Downs
6′ 3
240
Jr
Montlake Terrace
(Arizona State, Colorado State, Utah, Washington)
RB
Nathan Beasley
5′ 11
185
Jr
Camas
WR
Ridge Harmon
6′ 0
170
Jr
Eisenhower
WR
Zach Eagle
5′ 9
165
Jr
Camas
ATH
Chico McClatcher
5′ 8
170
So
Federal Way
(Portland State, Washington)
ATH
Isaiah Brandt-Sims
6′ 0
175
Jr
Wenatchee
(SMU, Wyoming)
TE
Drew Sample
6′ 4
225
Jr
Newport
OL
Chandler Streuli
6′ 3
290
Jr
Enumclaw
OL
Drew Clarkson
6′ 4
275
Jr
Camas
OL
Jonah Jordan
6′ 2
265
Jr
Mead
OL
Kaleb McGary
6′ 7
280
Jr
Fife
(Oregon State, Washington)
OL
Morgan Richey
6′ 4
270
Jr
Bellevue
DL
Benning Potoa'e
6′ 3
240
So
Lakes
DL
Cody Baker
6′ 4
240
So
Eastside Catholic
DL
Marcus Griffin
6′ 3
280
Jr
Bellevue
DL
Mason Johnson
6′ 3
300
Jr
Kentlake
DL
Shane Bowman
6′ 4
220
Jr
Bellevue
DL
Thomas Toki
6′ 1
280
So
Juanita
LB
Cy Sirmon
6′ 2
200
So
Wenatchee
LB
Devante Downs
6′ 3
240
Jr
Montlake Terrace
(Arizona State, Colorado State, Utah, Washington)
LB
Jack Flor
6′ 2
210
Jr
O'Dea
LB
Michael Digenova
6′ 2
210
Jr
Camas
DB
Budda Baker
5′ 11
180
Jr
Bellevue
(Arizona, Arizona State, Boise State, Colorado, Notre Dame, Oregon State, Purdue, UCLA, Utah, Washington, Washington State)
DB
Drew Lewis
6′ 3
190
Jr
Eastlake
DB
Keenan Curran
6′ 2
185
Jr
Federal Way
DB
Zach Eagle
5′ 9
170
Jr
Camas
UT
Austin Joyner
5′ 11
190
Jr
Marysville Pilchuck

2nd Team

QB
Reilly Hennessey
6′ 3
185
Jr
Camas
QB
Ross Bowers
6′ 2
180
So
Bothell
RB
Austin Joyner
5′ 11
190
So
Marysville Pilchuck
(Washington, Washington State)
RB
Drew Lewis
6′ 3
195
Jr
Eastlake
(PITT)
RB
Myles Gaskin
5′ 11
175
So
O'Dea
WR
E'lon Mack
6′ 1
170
Jr
Heritage
WR
Jalani Phelps
6′ 4
175
Jr
Lynden
WR
Jeffrey Feinglass
5′ 11
175
So
Eastlake
ATH
Caleb Lyons
5′ 10
170
Jr
Lakes
ATH
Garrett McKay
5′ 10
165
Jr
Bellarmine Prep
TE
Josh Cahill
6′ 3
215
Jr
North Thurston
OL
Chandler Newell
6′ 2
235
Jr
Chiawana
OL
Kayden Maughn
6′ 3
240
Jr
Chiawana
OL
Mason Johnson
6′ 3
300
Jr
Kentlake
OL
Reggie Long
6′ 2
275
Jr
Skyline
OL
Trey Adams
6′ 6
255
So
Wenatchee
DL
Deion Fetui
6′ 0
305
So
Eastside Catholic
DL
Jarius McDade
6′ 3
300
Jr
O'Dea
DL
Jason Vailea
6′ 2
235
Jr
Camas
DL
JayTee Tiuli
6′ 3
290
Jr
Federal Way
DL
Jonah Jordan
6′ 2
265
Jr
Mead
DL
Miles Lockett
6′ 0
250
So
Bothell
LB
Calvin McLain
6′ 0
210
Jr
Curtis
LB
Gianni Carbone
6′ 0
210
Jr
Skyview
LB
Hayden Maliska
5′ 11
210
Jr
North Thurston
LB
Jared Pulu
6′ 3
215
So
Federal Way
DB
Blue Thomas
6′ 0
175
So
Eastlake
DB
Brandon Thompson
5′ 10
185
Jr
Bellarmine Prep
DB
Caleb Lyons
5′ 9
170
Jr
Lakes
DB
Cole Karstetter
5′ 11
170
Jr
Ferris
DB
Dehonta Hayes
5′ 11
165
So
Lincoln
UT
Lou Millie
5′ 10
190
Jr
Bellarmine Prep

3rd Team

QB
Pierre LeDorze
6′ 2
225
Jr
O'Dea
QB
Tavin Montgomery
6′ 0
160
Fr
Juanita
RB
Austin Hall
5′ 10
178
Jr
Kamiak
RB
Colin Cossette
6′ 0
210
Jr
Kennedy Catholic
RB
Conner Baumann
6′ 2
215
Jr
Newport
RB
Jack Gellatly
5′ 11
190
Jr
Issaquah
WR
Dylan White
6′ 5
210
Jr
Camas
WR
Tanner Pauly
5′ 11
175
Jr
Shadle Park
ATH
Asán Néil-Evergin
5′ 9
165
Jr
Timberline
ATH
Keynan Foster
5′ 10
160
So
Jackson
TE
Cole Ford
6′ 4
205
So
Bothell
OL
Chris Durrett
6′ 2
270
Jr
Camas
OL
Chris Schlichting
6′ 5
245
So
Mount Si
OL
Dylan Ledbetter
6′ 2
225
So
O'Dea
OL
Henry Roberts
6′ 5
240
So
Bellevue
OL
Will Fisher
6′ 5
290
So
Richland
DL
Calvin Throckmorton
6′ 5
240
So
Newport
DL
Elisha Pa'aga
5′ 11
265
Jr
Eastside Catholic
DL
Jackson Gardner
6′ 5
220
So
Inglemoor
DL
Jakob Stoll
6′ 2
260
Jr
Wenatchee
DL
Trey Tutt
6′ 4
255
Jr
Southridge
DL
Willie Eteaki
6′ 2
310
Jr
Skyview
LB
Alex Weber
6′ 1
210
Jr
Chiawana
LB
Anthony Masaniai
6′ 2
215
So
Eastside Catholic
LB
Mac McLachlan
6′ 0
200
Jr
Edmonds-Woodway
LB
Nate Lewis
6′ 1
220
Jr
Arlington
DB
Jeffrey Feinglass
5′ 11
175
So
Eastlake
DB
Josiah Evans
5′ 11
165
Jr
Meadowdale
DB
Sam McPherson
5′ 11
175
So
Bothell
DB
Terin Adams
5′ 11
160
So
Juanita
UT
Drew Griffin
6′ 0
200
Jr
Bellarmine Prep

Honorable Mention

QB

Blake Maimone (So., Eastside Catholic), Blue Thomas (So., Eastlake), Brendan Illies (So., Puyallup), Clark Hazlett (So., Squalicum), Derrick Becker (Jr., Capital), Dillon Sugg (Jr., Wenatchee), Elias Moctezuma (So., AC Davis), Isaiah Hatch (So., Decatur), Jake Luton (Jr., Marysville-Pilchuk), Jayden Croft (Jr., Tumwater), Jess Krahn (Jr., Hockinson), Nolan Henry (So., Union), Quincy Carter (Jr., Kent-Meridian), Ryan Peerboom (Jr., R.A. Long), Tanner Gueller (Jr., W.F. West)

RB

Addison Hull (So., Eastside Catholic), Amani Brown (Jr., Mount Rainier), Andrew Rickman (Jr., Cedar Park Christian), Dominique Fetui (So., Eastside Catholic), Jack Flor (Jr., O'Dea), Jackson Lewis (So., AC Davis), Leon Siofele (Jr., Union), Luke Hilmes (Jr., Mead), Marquise Lee (So., Hazen), Max Richmond (Jr., Bellevue), Sam McPherson (So., Bothell), Sam Richmond (So., Bellevue), Teague James (Jr., Graham-Kapowsin), Tyrus Snow (So., Tumwater)

WR

Adrian Shocks (Jr., Todd Beamer), Gage Casal (Jr., Eastlake), Jackson Keimig (So., Redmond), Jalen Hicks (So., Ferris), Joey Cassano (Jr., Auburn Mountainview), K.J. Brady (Jr., Cascade), Levi Jordan (Jr., Puyallup), Mason Tobeck (So., Cascade Christian), Melvin Walser (Jr., Mount Vernon), Michael Owes (So., O'Dea), Mike Padden (Jr., Lakeside School), Nick Kiourkas (Jr., Shadle Park), Skyler Kelley (Jr., Shadle Park), Tevin Gray (So., Lake Stevens), Torrance Baker (Jr., Garfield)

ATH

Brandon Thompson (Jr., Bellarmine Prep), Deion Stell (Jr., Marysville-Pilchuk), Dylan Campbell (Jr., Graham-Kapowsin), Jacob Dennis (Jr., Skyview), Trevante Robinson (Jr., Jackson)

TE

Alexei Oro (Jr., O'Dea), Beau Byus (Jr., Central Valley), Benning Potoa'e (So., Lakes), Christian Penny (So., Chiawana), Conner McLeod (Jr., Graham-Kapowsin), Erik Rottsolk (So., Lakeside), Jackson Gardner (So., Inglemoor), Nick Seldon (Jr., Bellarmine Prep)

OL

Alex Neale (So., Eastside Catholic), Alex Rice (Jr., North Thurston), Brad Kimball (Jr., Mercer Island), Drew Springfield (Jr., Eastside Catholic), Matt Walser (Jr., Camas), Nick Streubel (Jr., Coupeville), Randin Crecelius (Jr., Cascade), Sam Fisher (Jr., Enumclaw), Shay Dingfelder (Jr., Issaquah), Taylor Comfort (Jr., Sultan), Treshon Long (Jr., North Thurston)

DL

Chris Durrett (Jr., Camas), Dakota Weir (Jr., Auburn Mountainview), Erik Rottsolk (So., Lakeside), Evan Miksch (Jr., Lake Stevens), Gerald Kennedy (Jr., O'Dea), Jaquer Baker (Jr., Rainier Beach), Jojo Alkhedairy (Jr., Meadowdale), Korye Trejo (Jr., Tumwater), Micah Prescott (Jr., Renton), Monike Sarte (Jr., Fife)

LB

Andrew Katzenberger (So., Lynnwood), Austin Striplin (Jr., Sumner), Carson Iraola (Jr., Eastlake), Evan Johnson (Jr., Mount Si), Grady Graff (Jr., Chiawana), Jason Sele (So., Auburn Mountainview), Jusstis Warren (So., Lincoln), Maruicio Portillo (Jr., Enumclaw), Mustafa Branch (So., Bellevue), Shawn Munro (So., Bothell), Stuart Gillin (Jr., Walla Walla)

DB

Caleb Browning (So., Union), Gabe Gleizes (Jr., Tumwater), Isaiah Lewis (So., Inglemoor), Jack Henning (Jr., Seattle Prep), Kaleb Smith (Jr., Kentlake), Myles Gaskin (So., O'Dea), Ross Connors (So., Bellevue), Ryan Gilbert (So., Bellevue), Sheyenne Sams (Jr., Oak Harbor)