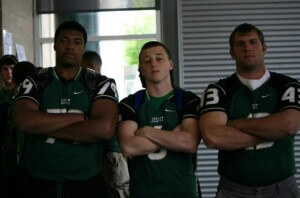 One of the top backs in the Pacific Northwest, AJ Glass (6-1 200 Sr. RB/SS) of Jesuit, made his intentions known committing to Princeton after a phenomenal career running the ball for the Crusaders.
Glass went for over 3500 yards and 50+ Tds in the last two seasons, while missing most of his Metro league senior year with an injury. AJ is also considered one of the state's top safeties, and broke his collarbone making an acrobatic interception against Sunset. He was an all league kid for three seasons starting his career at West Linn, and earning 2nd team all league honors as a sophomore safety.
AJ is an outstanding student and wanted to pursue the Ivy League challenging himself academically, while playing a high level of collegiate football.
Jesuit reached the semi's for two seasons before losing two close games to eventual state champions, Lake Oswego 2011 and Sheldon 2012. Both seasons the Crusaders had a championship quality squads but came up just short.
Glass has an explosive running style and deceptive speed that allowed him to carry the ball 40+ times a game during some contests. He racked up ridiculous numbers in the process, averaging close to 200 yards per game over his career at Jesuit making him one of the all time conference statistical leaders and a name that won't be forgotten.
The Tigers coaching staff is celebrating somewhere landing two BIG time recruits out of the northwest, with the other being Lawrence Wilson (6-3 205 Jr. WR) of Central Catholic. We wish AJ continued success out on the east coast. His hard work and dedication speak volumes to the kid that he is, as he will be successful in life regardless of what he does.