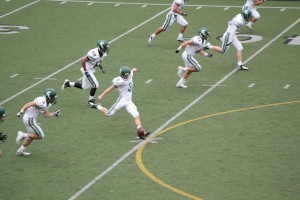 A position that typically goes unnoticed in recruiting is kicker. Few if any garner national attention, but it is a very important position — just ask Washington and Oregon who lost critical games late in the season — and that is why it is surprising that Skyline (Sammamish, Wa.) K Sean McDonald hasn't been able to garner much in the way of attention from FBS or even FCS programs.
That being said, the talented kicker has seen things pick up a bit since Skyline completed their second championship season and he could be looking at some late offers as the process moves along.
"Right now I have an offer from Wayne State and I've been talking to a few schools about possibly walking on," McDonald told Northwest Elite Index. "Washington State has been talking to me about that and I've talked a little with Washington about that too. Idaho and Eastern (Washington) have also talked to me and they might offer, but right now, I'm just talking to them."
McDonald has enjoyed a prolific career for the Spartans.
As a freshman he was called up to the varsity squad and backed up a senior as the Spartans won the state championship in 2009. He then took over the kicking duties as a sophomore in 2010 and earned Second Team All-Kingco honors as a punter while earning honorable mention honors as a kicker. The past two years he earned First Team All-Kingco as both a punter and kicker, finishing his prep career by hitting all 78 of his extra point attempts while hitting 7 of his 10 attempts including a 48-yarder in a 48-24 win over Bellarmine Prep which was a record for the championship game.
"I feel good about my kicking and my punting. I like to do both," McDonald said. "I think I'm probably a better punter just because I am pretty fast (4.52) so I can make tackles and track down returners if I need to."
McDonald is also a dual-sport athlete, playing soccer for the Spartans as well.
He is a specialist to keep an eye on over the coming weeks to see which schools step forward with offers. He's definitely got the leg to get the job done, but, for some reason he is still falling under the radar.