Calvin Chandler Highlight Video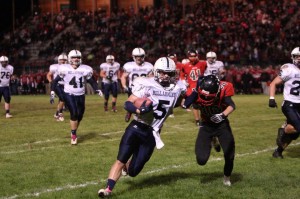 This season, Bellarmine Prep made their way all the way to the 4A State Championship game and a big reason was the leadership and contributions of LB/WR Calvin Chandler. The talented senior led the Lions with 112 tackles to go along with a sack and an interception on defense while hauling in 35 receptions for 452 yards and five touchdowns. That productivity, to go along with his natural football instincts, are a big reason why he has offers from eight schools and why some Pac 12 schools are looking at him as a walk-on candidate.
"My offers right now are the three service academies (Air Force, Army and Navy), Dartmouth, Princeton and Yale and then Idaho and Wyoming," Chandler told Northwest Elite Index recently. "I've been talking a lot with (Washington coach) Peter Sirmon about going to U-Dub as a preferred walk-on and that's something that I'm thinking about, but I'm going to take my visits to schools and then make my decision on what I am going to do."
Chandler told NEI he plans to visit Navy on January 4th, Yale on January 11th, Princeton on January 18th and Washington on the last weekend of January, the 25th.
"I was supposed to go see Navy on the 11th, but that was the only time I could work out to visit Yale, so I'm going to see if I can move my Navy visit January 4th," Chandler noted. "I'll have coach Sirmon come on an in-home next month at some point, Army is going to come for an in-home and Colorado and BYU have both talked about coming for in-homes too.
"It's kinda been nice, now that the season is over with, I can sorta start to concentrate on recruiting."
Chandler said that two schools — Wyoming and Dartmoth — are currently recruiting him to play wideout, but all the rest of the schools that have either offered or that are recruiting him like him somewhere on defense.
"Most like me at either linebacker or safety," Chandler said. "I like playing both sides, but I think that's probably the best place for me (defense) because of my instincts and I really just love to hit."
Chandler's father and grandfather both played for the University of Washington, so he comes from great bloodlines and could wind up being a real asset to whichever program he chooses to join. He's also going to be a great clubhouse leader, able to hold teammates accountable while being very productive on the field.
We will continue to keep track of Chandler's progress and will update news as it happens with him.