Mike Padden Highlight Video
Erik Rottsolk Highlight Video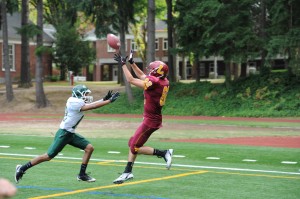 In October I did an article about the Lakeside School football team and their love for the game, Link Here. While doing followup for that article, WR/DB Mike Padden (Jr, 6-3 190) showed everything I was expecting to see. He was taller than almost everyone on the field and had the raw physical tools that you like in a young WR.
Padden comes from a very athletic family. Mom is a skier, dad player NT at Seattle Prep and 3 sisters played basketball. Growing up with those three sisters made basketball a natural fit for Mike. As a freshman he made the choice to turn out for the football team, a decision that has resulted in record breaking play on the field.
Making the transition from basketball to WR in football is one that makes a lot of sense. WR is a position that requires body control used heavily on the hardwood. The results weren't there right away for Padden though. "I didn't play much varsity until the end of my sophomore year. I was behind 6 senior receivers and began starting my Junior year," he said.
2012 gave Padden an opportunity to be the guy. He was starting at WR and quickly became Jr QB Adam Hinthorne's favorite target. "My first game I had over 175 receiving yards. Over the season I had 886 receiving yards and 9 touchdowns". Padden continues, "I proceeded to win offensive player of the year while breaking all of Lakeside's single season records, and most of the career records as well."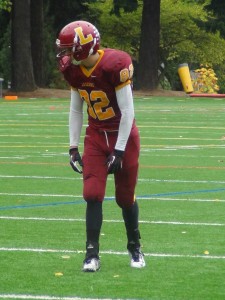 Injures are something all teams deal with throughout the course of a season. Some teams can plug in a backup and get by, but Lakeside walks a fine line. With small turnout the Lions play almost everybody both ways. The starting QB also plays Safety. OL flips to DL or LB, RBs play LB and DB. When the injury bug bit Padden he didn't complain, "As my injuries worsened, I had to adjust my game. I did whatever my coaches asked and because of it I feel I had a great season."
Lakeside School isn't your average private school. The academic demands are much higher and typically sports become an after thought. "Lakeside is a very rigorous school and I keep a 3.2. I put most of my free time toward school and sports" he said.
This season the Lions basketball squad is poised to have a big season. A player that joins Padden on both teams is Sophomore TE/DE Erik Rottsolk (6-6 220). 2012 was Rottsolk's first year on the football field and it took him a while to get adjusted. "I've played basketball all my life and just wanted to try football this year for the first time". He continues, "Nerves really got to me in the beginning of the season but then i started to relax."
Rottsolk is a kid that we have on our Sophomore Rankings and could easily become one of the better players in the 2015 class. Just watching his Hudl, you will see a kid that needs work, what guy with 10 games of experience doesn't, but Rottsolk is player with limitless potential.
The Lakeside Lions are a team on the rise and with a coach like Casey Selfridge in place, I don't see them going anywhere but up. Selfridge is one of the most honest and hardworking coaches in the state. "He is at Lakeside at least 3 days a week despite his teaching job at Meadowdale High School. He also attends most of the basketball games. He has completely changed the attitude toward football," Padden said. "Instead of getting 5-9 students playing football per grade, we have gotten 10-15, which can allow the program to grow.
2013 could be a big year at Lakeside and I really look forward to seeing some of Lions at our events over the offseason. I attended one Lakeside game this past season, but can guarantee I would be at more in the years to come.