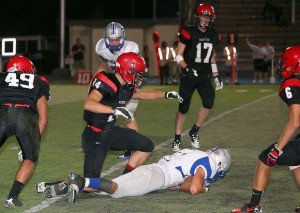 Anyone familiar with High School Football in Oregon will tell you that North Medford is a tradition rich school that has had a tough past decade. We are big fans of what Head Coach Bill Singler has done over at South Medford, and now we see a Black Tornado program that is turning things around and potentially getting back to old form.
This past season North started double digit sophomores in what was a deceptively decent year. No one is happy with a (2-8) record, but the 2015 class has rarely lost growing up and the younger classes are much improved.
Quarterback Troy Fowler (6-0 160 So QB) had a respectable sophomore season, but more importantly gained valuable experience. Fowler is everything you want in a leader and will be one of the better QB's in the State of Oregon before he is done.
The Black Tornado feature the state's #1 ranked Sophomore Wide Receiver in Jared Evans (6-4 185 WR/S) who can physically dominate and looked the part on the camp and combine tour last off season. Look for Evans to play a huge role next year, and be big for North on both sides of the ball.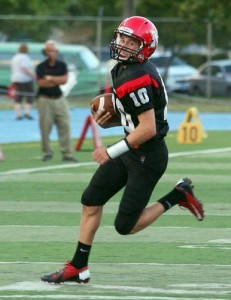 Nick Janakes (6-0 190 So. RB/DB) is another kid we have ranked high on our boards, as he will be another one of the state's best for the 2015 class. Expect him to be the featured back along with Colton Westfal (6-1 175 RB/LB So.), a talented multi sport kid already being recruited for baseball.
Fowler says, " Jared could be the most dominant receiver in the league next year, and is lifting hard and will be attending all of the Elite Events". He continued, "Nick is a freak and will be our primary back next season, and Colton is a kid that's happy to come up and hit you in the mouth at any time".
No one disputes last season was tough, getting outscored by an average score of 36-14. That said almost everyone returns minus the SWC's leading rusher in Evan Hisey. Head coach Mike Mitchell has done a phenomenal job getting things back on track within the football community.
"I think things are actually going great..Our weight room program has completely transformed and every one is getting bigger, stronger, and faster", Fowler says. "Our coaching staff watches film everyday working with everyone individually while restoring traditions within the program".
You can tell things are just different when speaking to Fowler. Many may be familiar with the name Tristen Holmes (6-2 185 So. WR/DB) who has just gotten bigger and stronger, getting valuable experience and starting on defense all last season. He is related to Tyrone (Montana) and Austin Holmes, the standouts from Eagle Point.
Edmund Polatiavao (6-1 185 So. LB/TE) and Isaac Grether (5-11 175 So. LB) will be two of the better defensive players in the conference with Polatiavao being a kid that we have added to our rankings recently. He has a huge upside and his teammates rave about his potential. Fowler says, " He started from the third game in and lead the team in tackles, and is also crazy athletic and can lay the wood".
Calvin Casaday (6-3 175 So. DE/LT) , Skylar Black (6-1 190 So. DT/OL) , Drew Collins (5-11 220 So. RG/DT) , and Trenton Wilson (6-2 185 So. DE/FB) are four sophomore lineman that return with experience in what is looking like one of the top 2015 classes in Oregon.
We are looking forward to following North's transformation, and see if they can compete with what has been a fairly dominant South Medford squad over the last 10 years. Its exciting to see the Black Tornado taking the right steps, and we think they will be a team to be reckoned with in the coming seasons.