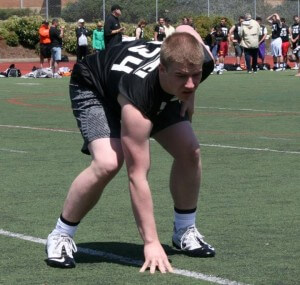 If you didn't notice the Southridge Skyhawks won the Metro League title again this season, and did it with a young and inexperienced line. This point is specifically stressed as they had to take on up front casts that were senior dominated, and twice their size in Aloha and Jesuit.
Cox (6-3 240 Jr. OL) was the junior leader of the group that will be back and even better next season. O line coach Brian Cassidy is a former All American out of Stanford who was a projected 1st round NFL Top 10 pick, before a career ending injury. What Southridge accomplished this year had a lot to do with what took place up front.
"When you go up against teams that big, technique and angles play such a huge part in being successful…. We worked on being able to stay low and powerful for all four quarters, and Coach Cassidy's training played an enormous part in that".
Cox continued, " A lot of our training is just using our own body weight and getting it stronger in angles that are used throughout the game…With such a young inexperienced line this year, we knew that the outside world didn't have very high expectations".
Tyler is a kid with an incredible work ethic and a huge upside with continued growth most likely on the horizon. His father stands 6-6 and didn't grow til late and his mother is also tall. Much like many other Southridge players his family support system is strong, as the Skyhawks will be a state title contender next season.
Jeremiah Everett (6-0 230 So. OL/DL) and Danny Tanabe (6-1 230 Jr. OL/DL) are both considered two of the better lineman in the state and will also return. Making this even more intriguing is the return of two of the state's top junior backs in Devin Martinez (5-8 185 Jr. RB) and Jake Pruit (6-3 215 Jr. RB/LB) . Martinez could be the top back in the state at the 6a level next season, as a he was a 1st team all league kid as a sophomore.
Cox says, " The team attitude this year was all about brotherhood, I knew my team had my back just like I had theirs. Having Cassidy as our line coach this year was major, he has so much knowledge of the game as a player and a coach that he is able to pick out several things that each guy needs to work on just by watching a play for several seconds".
Expect Southridge to be one of the top ranked teams in the state coming into next season with everyone playing a part. They don't really have a weak area on their roster with a host of kids returning from back to back Metro League title teams. We will keep you updated on all of the Skyhawks, and expect Tyler Cox to be a kid that comes into 2013 as one of the better lineman in Oregon.