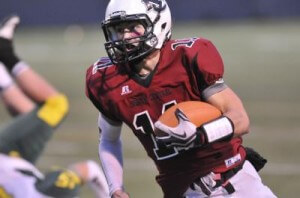 There are a variety of reasons that players get overlooked coming out of the Pacific Northwest if we are talking recruiting. Jake Hoffman (6-0 170 Jr. ATH) of North Central HS in Spokane is one of the most unselfish kids you are ever going to meet.
The 2011 and 2012 GSL All Purpose Player of the Year, was shown a great deal of respect by the coaches within the conference who gave him this honor after his team went (3-17) over the last two seasons. Hoffman played out of position for the last two years at quarterback, as the Indians needed the ball in their best players hands on each snap if they were going to have a chance.
Jake's sophomore season saw him catch 51 passes for 816 yards and 8 Tds, earning 1st team all league honors. His receptions were good for 5th all time for a single season in the GSL, setting the tone for his career. I have been a huge Hoffman advocate since day one, as we have him ranked one of the top 5 athletes in the State of Washington for the 2013 class.
Its no secret that his team struggled over the last few years, but that did not stop Jake from driving 45 minutes each way to school and staying loyal to the guys he grew up with. "There is nothing like high school football, no matter if you are winning or losing it teaches you more life lessons then anything else I can think of… respect, responsibility, loyalty, and integrity are all a part of it", Hoffman says. He continued, " College football will be sweet, but growing up and playing with the same kids since you were 5 is awesome"
As a junior Hoffman rushed for 849 yards and 10 Tds from his QB spot, and threw for 1770 yards and 9 Tds. He finished 6th all time in All Purpose yards for a season in the Greater Spokane League.
North Central had higher expectations in 2012, but Hoffman didn't disappoint rushing for 529 more yards and 8 additional Tds. He finished 5th All Time in GSL History with (4,771) All purpose yards, and is a legit college prospect that could play multiple positions at the next level. "I feel like I sent a message to people by making all state and getting up there in the record books…I think I showed that no matter where you are from or where you go to school, anything is possible with hard work".
Watching Jake's film you see a kid with speed. He's an outstanding track athlete beating the likes of UW RB Bishop Sankey on the track at an early age. His ability to elude and just out run defenders puts him in a special category, and makes him an even more intriguing DB prospect.
Hoffman traveled with us to Las Vegas for the National 7 on 7 tournament, where the kids managed to make a quarterfinal run against some of the nation's best as part of NEI-South. This was the furthest any team from the Pacific NW had ever advanced.
Wherever Jake ends up he is going to make an impact. I feel like Hoffman is a D1aa caliber player, that could end up being a D2 All American if that's the route he chooses. Regardless the kid is talented, and one of the greatest players to ever come out of North Central High School.