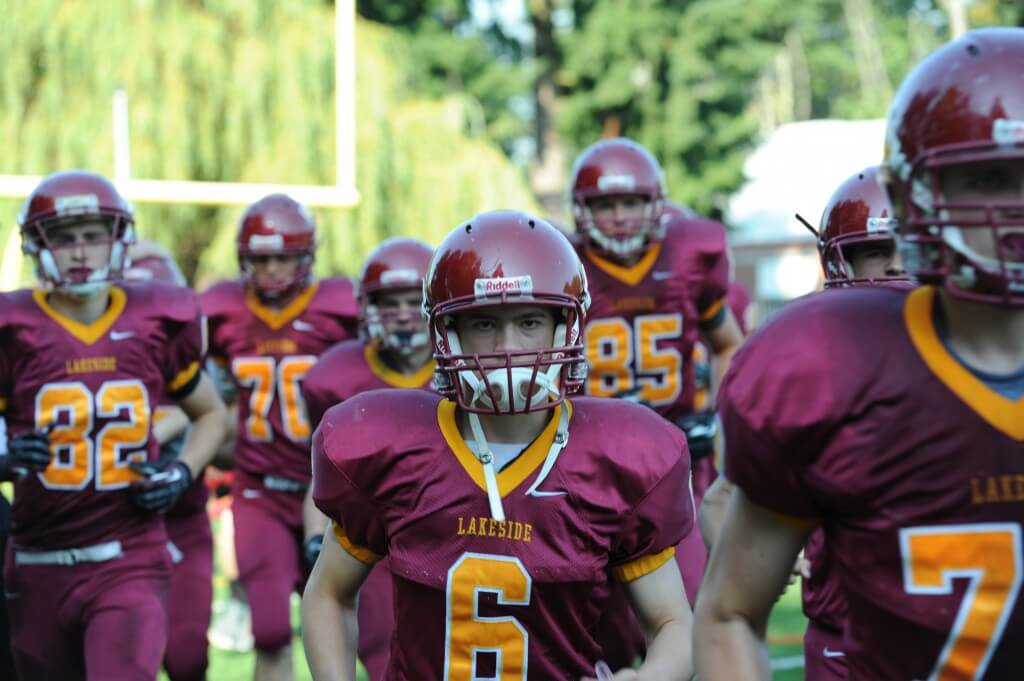 I don't know how many teams were eliminated from a state championship after the first week of the season, but that is exactly the case for the Lakeside Lions and second year head coach Casey Selfridge.
When Lakeside School left the Metro League an agreement was made that requires them to go undefeated to gain one of the leagues playoff spots. While their week one 48-16 loss to Nathan Hale eliminated their state championship hopes, it hasn't stopped the Lions from playing hard and breaking multiple school records along the way.
The 2011 season was a success for the Lions as they finished 6-4, including a 3 game winning streak to end the year. The real story for the Lions was the play of RB Kyle Lee (6-0 195) who broke school records for rushing yards, TDs and points in a season. "Kyle is the heart and soul of our team." Coach Selfridge said.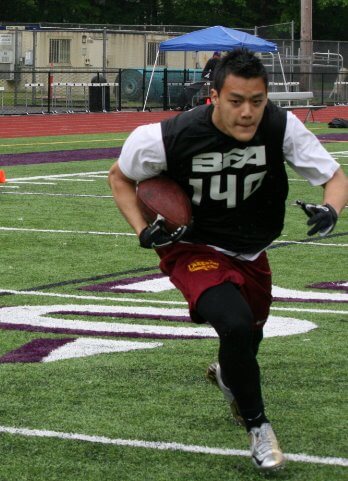 On the year Lee rushed for 1,618 yards and 21 TDs. Things have not been as easy this year for Lee as defenses have started filling the box and keying on him. "This season has been more challenging," Lee said. "Having Mike (Padden) and Adam (Hinthorne) has really helped out a lot."
At just 5-8 and 160 lbs, Junior QB Adam Hinthorne doesn't strike the eye as a guy who can really throw the ball around in a passing offense. In a week 4 win over Renton, Hinthorne completed 19 of 32 passes for 354 yards (School Record) and 6 TDs (School Record). Through just 5 games Adam had already thrown for over 1,200 yards.
I asked Adam if being small made things tough on him, "Being a 5-8 QB isn't really that much of a battle," he said. "You gotta find the throwing lanes. My WRs do a great job of getting open."
Hinthorne's favorite target on the season has been Junior Mike Padden who at 6-3 and 190 lbs is actually bigger than 3 of his team's 5 offensive lineman. To this point Padden has already broken records for catches in a game and season, yards in a game and season, and TDs in a season.

Padden is lauded for his ability to make plays when the Lions need one. Coach Selfridge said, "He is so calm with kids draped all over him. We are very confident throwing his way."
Another player that has become a great weapon for the Lions is Senior FB Dan Verzuh (6-1 190). In week 4 against Renton, Verzuh finished with 3 carries for 58 yards and a TD, 5 receptions for 108 yards and 3 more TDs, but it might be the perfect 6 for 6 on PATs that caught my eye. "Dan has been a great surprise," Selfridge said. "He is beginning to realize his abilities."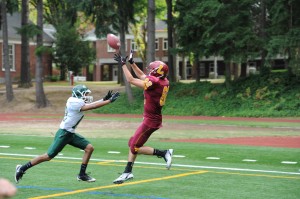 Just like the rest of this team, the lineman are over looked. The guys doing all the dirty work are all seniors and led by captain and center Peter Ballmer (6-3 235). The rest of the line is Harrison Forch (6-0 210), Sam Klebanoff (5-11 185), Varun Bahl (5-11 175) and Peter Scott (6-0 175). While they are all a bit undersized, coach Selfridge described them as, "A collection of guys that just love the game. They scrap and claw every play."
Even though he might not admit it, the best thing that ever happened at Lakeside might have been when coach Selfridge was hired in April of 2011. He played at South Kitsap and even won a state championship. After HS he went to PLU and played under legendary coach Frosty Westering.
Selfridge teaches at Meadowdale high school and coached most of the team that is now 6-0 and ranked #3 in our 3A rankings. Lee described Selfridge, "He is the hardest working coach in the state. He doesn't work here but I see him all the time". He continued, "He views the program not just now, but in the future."
With the playoffs in the rear view mirror, Lakeside is a team that has nothing to lose. I think WR Mike Padden said it best, "We just play each week. We don't get many more chances."