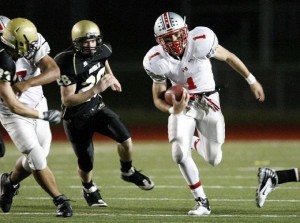 News just into NEI is that Mountlake Terrace RB/LB Devante Downs (6-3 235) has been offered by coach Sarkisian and the Washington Huskies.
Over the phone tonight Downs said, "I am in awe, amazement and very appreciative."
When asked how it all went down, "Tosh Lupoi came to my school to see me and told me to call him". He continued, "When I got ahold of him he handed the phone to coach Sarkisian and he offered me."
He has interest from all over the country and you can be sure that this is the first of what will be many offers for the Mountlake Terrace star.
Downs was recently ranked as the co-#1 RB, with Buddah Baker of Bellevue, in our 2014 rankings and will also be a highly ranked LB when that position is ranked.
So far in 2012 he has rushed 106 times for 616 yards and 13 TDs. Here at NEI we like to compare his abilities to that of former Heisman Trophy RB Eddie George out of Ohio State University. His combination size and speed is something that makes Devante a very unique player.
As a Sophomore in 2011, Downs rushed for over 800 yards and 11 TDs for a Hawks team that finished just 2-8. Devante also showing he can play defense with over 90 tackles and two forced fumbles as a LB.
We are all very excited to watch Devante's list of offers grow over the next year and a half and you can be sure that we will be all over it every time it does.