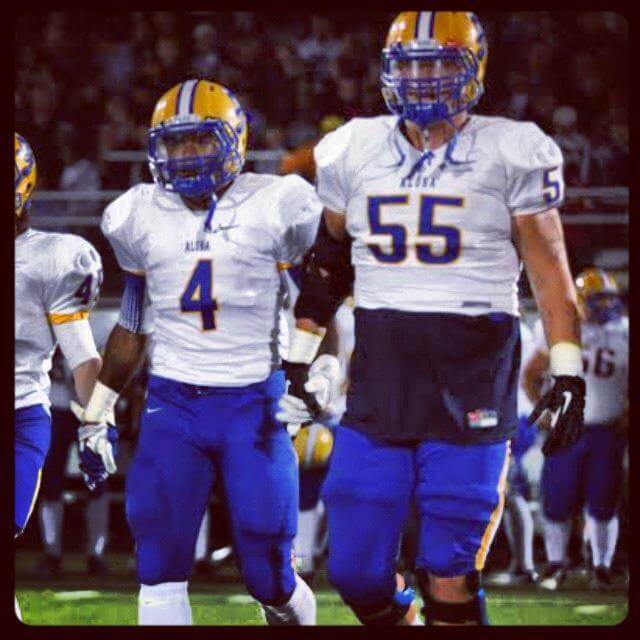 The Great thing about NEI and the Barton Football Academy is that we get to train with all of the NW's Top Athletes. Brayden Kearsley is one of the best lineman in the country, and #1 ranked O lineman in the Northwest. He is a soft commit to BYU, but insists he is keeping his options open. He currently holds additional offers from Oregon St, Arizona St, UCLA, Utah, Kansas, Colorado, and Hawaii.
Kearsley worked with us all off season, as did the other #1 ranked players at their position in Oregon and Washington. It didn't matter that the kid had seven big time offers he just wanted to get better, so he attended everything we did which you had to respect. We caught up with Brayden the other day and asked a few questions and enjoyed what he had to say.
Jordan J-NEI: Talk about the recruiting process and your commitment to BYU?
Brayden Kearsley: "The process is going well but signing day still seems far away. Things will pick up and it will come quick as it just gets more intense, especially with colleges being able to call you. I will take all my visits and enjoy my once in life time experience, but also be looking intently at the programs."
Jordan J-NEI: How would you describe yourself as an Offensive Lineman and what is it like blocking for one of the Country's top backs in Thomas Tyner?
Brayden Kearsley: "I dont change anything I do, I consider myself a nasty OL and that will never change. If im engaged on a defensive lineman why would i stop running my feet? I want to pancake the guy in front of me. As for Thomas I don't think any of us will ever play with a faster back. He is also my guy and we can trust each other. He runs behind me knowing ill get the job done for him, and he will get the job done for me and the rest of the O Line".
Jordan J-NEI: What are some comparisons and differences from the 2010 state title team and this year's undefeated and very talented 2012 team?
Brayden Kearsley: "Similarities are that we can play from behind and not flinch a bit, while staying focused, fast, and confident. We are also brothers on and off the field, and we don't have any clicks and we all get along… I also think that we showed against Tigard that we could play very talented teams on the road, and come out with W's which was something we were able to do in 2010".
Jordan J-NEI: What were you thinking when Thomas was running for 640+ and 10 Tds, and how did Lakeridge drop 63 on you when you guys are supposed to have one of the top D's in the state?
Brayden Kearsley: "Thomas scored 5 in the first half against Thurston so I wasn't surprised he had so many on 38 carries, he's a stud. I didn't think he had that many yards because he had 4 Td's on 4 plays and it didn't seem like he was on the field that much."
"Defensively we weren't to worried because we just needed to adjust some coverage assignments, we had a good QB (Eric Dungey) against us and he could scramble with his eyes down field. We weren't worried about the 63 points to much because we had 84 points, they recovered 4 onside kicks which was unbelievable and we snapped a ball over our punters head… We gave them some points and good field position and they took away 4 chances for us to score"
Jordan J-NEI: Talk about influences you have had in your career and what has made you the player that you are…
Brayden Kearsley: "My dad has been the biggest influence, as he has been a coach and a very valuable resource… He has taught me so much, like how to consistently dominate defensive lineman, while always focusing on my hand and foot work… I trained with NEI and Barton Football because that's where ALL of the top athletes go, and everyone involved has given me more opportunities to better my career then I could ever imagine… I have improved a great deal from the last year due to the academy, and you can only get better going against the top kids".